Bridges and Baby Boomers
1950s and 1960s
After World War II, people were beginning to have larger families again. As well, many new immigrants and refugees were beginning to arrive from war-torn Europe, and there also tended to be a westward migration of people within Canada itself. Vancouver began to expand rapidly and the suburbs of Burnaby, North Vancouver, Surrey, Delta, and Richmond also felt the effect of Vancouver's magnetic allure. Richmond became a convenient alternative to those wanting to work in Vancouver and, at the same time, live close by.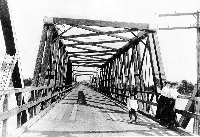 The north arm section of the Marpole bridge,
looking south from Eburne (now Marpole),
circa 1900. City of Richmond Archives
Photograph 1978 14 6.
Click to enlarge image.
Two major deterrents for those wishing to live in Richmond were the dilapidated old structures known as the Marpole and Fraser Street Bridges. With airplanes beginning to replace trains and ships as the preferred mode of travel, the Vancouver Airport on Sea Island increased in importance.
As more and more people came to Richmond to live, and as the necessity for better access to the airport grew, two new bridges were planned to help alleviate transportation demands.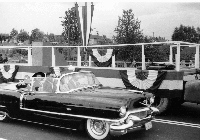 Oak Street Bridge opening ceremonies,
showing vehicles gathered at the
entrance to the new bridge, 1957.
City of Richmond Archives
Photograph 1984 23 5.
Click to enlarge image.
The Oak Street Bridge opened in 1957 and provided quick access to central Richmond and its airport. The Marpole Bridge was torn down and was not truly replaced until the Arthur Laing Bridge became a reality in 1976.
As well, a southern road to Richmond was created in 1959 with the Deas Island Tunnel (later renamed the George Massey Tunnel) replacing the ferry, the Delta Princess, as the only direct route to Delta. With a north-south highway corridor now a reality in Richmond, development exploded. School construction both before and after the opening of this corridor also took off.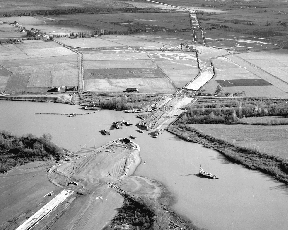 Construction of the freeway south of the George Massey
Tunnel looking south, 1958. City of Richmond Archives
Photograph 1984 3 1. Click to enlarge image.
Explore the links below to find out more about schools built during this period.