Richmond: Child of the Fraser
In 1879 Richmond was incorporated as a municipality. 100 years later the Richmond '79 Centennial Society, in conjunction with the municipality, published a comprehensive history of our community titled "Richmond: Child of the Fraser."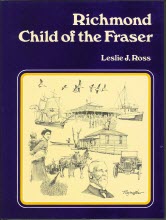 Written by Richmond native and historian Leslie Ross, it contains over 300 photographs and reproductions of documents, illustrations by Raymond Chow, maps, and informative appendixes. In 1980 it won a Canadian Historical Association award for best local history.
Since its publication it has become the standard history of our municipality, used by researchers and those just interested in reading about Richmond's past.

The book is now out-of-print. To ensure continuing accessibility to this valuable resource, the Archives has created a complete PDF version, available for free download. The new on-line version is fully indexed for easy keyword searching of its content.

Richmond: Child of the Fraser