Steveston Tram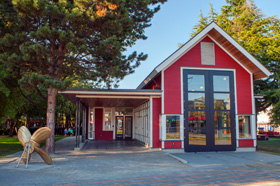 The Steveston Tram museum features Tram Car 1220, one of the original trams that ran on Richmond's interurban rail system. Today, the beautifully restored tramcar and the building that houses it, allow visitors to experience authentic interurban rail travel and learn about early 20th century transportation.
Designed to house Tram Car 1220, the museum was built around the original tracks of the BC Electric Railway Interurban Network across the street from where the Steveston Station once stood. You can still spot the original railroad path and power poles around the tram today.
Volunteer at the Tram
If you are interested in volunteering at the Steveston Tram, visit icanhelp.richmond.ca to browse volunteer opportunities and apply online.
Location and Contact:
4011 Moncton Street
Richmond, BC V7E 3A8
Phone: 604-238-8081
interurban1220@richmond.ca
Visit Artefact Collections for information on donating an artefact.