Minoru Chapel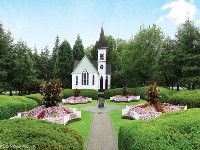 Minoru Chapel was built in 1891 with volunteer labour from the local Methodist Congregation. It was originally located at Cambie and River Roads and moved to its current location in the 1960s. In 1968 it was re-dedicated and re-consecrated as Richmond Minoru Chapel for the use of all denominations. Learn about the important history of the Minoru Chapel in the Statement of Significance.
Today, the Chapel can be booked through The Chapel Group for private events such as:
Weddings
Renewal of wedding vows
Funerals/Memorials
Baptisms
Services of Spiritual nature
Quiet prayer time
Venue Information
Minoru Chapel is wheelchair accessible and has an accessible washroom.
Seating capacity is 120 persons.
The Chapel is located on the west side of Minoru Park in central Richmond. View the Minoru Chapel site map for more detailed information.
Location and Contact:
6540 Gilbert Road
Richmond, BC V7C 3V4
Phone: 604-688-0770
minoru@thechapels.ca
Visit Artefact Collections for information on donating an artefact.