Richmond Museum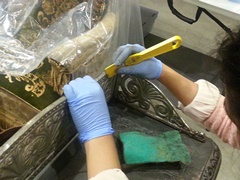 The Richmond Museum collects, documents, researches, preserves, exhibits and interprets objects of historical and cultural significance to the development and history of Richmond. Explore the culture and history of Richmond in the museum's constantly changing exhibition gallery or through its online exhibits.

Visit Richmond Museum website
Richmond Museum is supported by a volunteer Board of Directors who share a passion for the city, its history and fulfilling the Museum's mission to tell our stories. Board members represent community interests in the delivery of programs, presentation of interpretation, and collection of artefacts.
Volunteer at the Museum
If you are interested in volunteering at the Richmond Museum, visit icanhelp.richmond.ca to browse volunteer opportunities and apply online.
Location and Contact:
Richmond Cultural Centre
Cultural Facilities Map
7700 Minoru Gate
Richmond, BC V6Y 1R9
604-247-8300
museum@richmond.ca
Visit Artefact Collections for information on donating an artefact.