Understanding Your Utility Bill
All property owners receive utility bills. This includes owners of single-family homes, apartments, townhouses, as well as industrial, commercial, institutional and agricultural properties.
What goes into your Utility Bill?
Water supply and treatment
Sewer collection and treatment
Grease management
Solid waste and recycling collection
Environmental protection
Flood protection (drainage and dikes)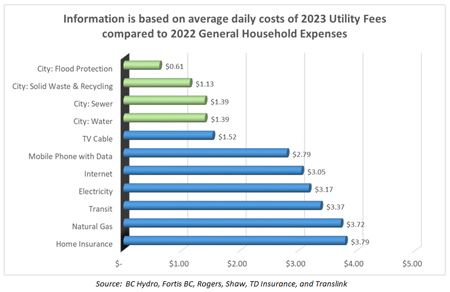 Payment Due Dates
The Annual Flat Rate Utility payments due date is: March 31, 2023

The Meter Utility payments are due three months after the end of every quarter:

Quarter 1 (Jan-Mar) due date in

June

Quarter 2 (Apr-Jun) due date in September

Quarter 3 (Jul-Sep) due date in

December

Quarter 4 (Oct-Dec) due date in March of the next year


Discount for Paying On Time
Only payments received on or before the due date will receive the 10% discount.
Receive your Utility and Property Tax Notices via Email
The option is now available to have your utility and property tax notices delivered to you electronically. To choose this billing option, register on MyRichmond, register your tax and/or utility accounts, and from your accounts, select the ebilling option.
Pre-Authorized Withdrawal (PAWS) Option
This option offers you the convenience of paying your property taxes and annual utility charges in monthly installments, through an automatic deduction from your bank account. Payments towards next year's property taxes and annual utility charges are deducted monthly on the first business day of each month, commencing on August 1. The City pays you interest on these monthly installments which is credited to your tax account.
For metered utilities, you have the option to have automatic withdrawals, on the meter due date, for the balance payable noted on your meter bill.
Contact the Tax Department of the City of Richmond at 604-276-4145 for further information on this plan, or simply fill in and mail us your application: Property Pre-Authorized Withdrawal (PAWS) form
Related Topic: Water & Utility Rates
Register or sign-in to view your utility and property tax information online.
By linking your Property Account to your MyRichmond account you will be able to:
View your utility bill and property tax notice
Check account information - past bills, current bills and balances owing
See your consumption history
Subscribe to ebilling
If you do not already have an account, you can register by clicking "Create your MyRichmond account today" on the login page.