Steveston Museum & Post Office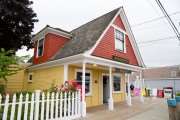 The Steveston Museum and Post Office is situated in the centre of Steveston Village. The Museum is comprised of three areas, each with their own history and offering unique but complementary experiences that celebrate and share the history and heritage of Steveston and its residents.
The Northern Bank building was built 1905 as Steveston's first bank and serves as the main entrance to the site. Today, the building has a variety of services for locals and visitors including a working Canada Post office, Pop-Up Artist show space, and museum displays. Learn about the important history of the Northern Bank building in the Statement of Significance.
The Japanese Fishermen's Benevolent Society (JFBS) building, connected to the Northern Bank building, features an exhibit telling the fascinating story of Steveston's Japanese Canadian community.
Steveston Town Square Park is adjacent to the Northern Bank building off Moncton Street, and provides a community green space in the spirit of the town squares in early settler towns.
Visit Steveston Museum and Post Office Website
The City operates Steveston Museum and Post Office in partnership with the Steveston Historical Society which offers programs and services on site. Their volunteer Board of Directors are dedicated to preserving and promoting the history of Steveston.
Location and Contact:
3811 Moncton Street
Richmond, BC V7E 3A7
info@historicsteveston.ca
Phone: 604-271-6868
Visit Artefact Collections for information on donating an artefact.