How Do Schools Get Their Names?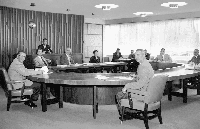 The new Council chambers at the
Municipal Hall with Reeve E.R. Parsons
in the chair, Municipal Clerk Ted Youngberg
seated below him, Councillor R.A. McMath
in the foreground and Councillor H.D.
Hudson seated on the far left. City of
Richmond Archives Photograph 1977 1 146.
Click to enlarge image.
One of the roles of elected officials on school boards or city councils is to name those structures which have been erected under their administration. Often the personal and cultural biases of public officials of the era can influence decisions in naming a public structure. These officials may also choose to accept suggestions from their constituents or even hold a contest whereby the general public compete to choose the name.
More often than not, public structures such as schools have been named for early pioneers in the community or after individuals who have made a major contribution to the culture and heritage with which the elected officials most identify.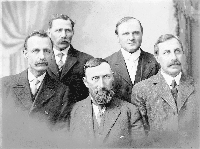 Five Richmond School Trustees
identified as from left to right, back:
Thomas Laing, Will Tilton, front: William
Easterbrook, James Thompson and
P.G. Bicknell. City of Richmond
Archives Photograph 1978 31 60.
Click to enlarge image.
Schools have also been conveniently named after the streets or after the subdivision where they are located. Most publicly elected boards, however, have established a policy or process which they follow in making decisions regarding the naming of schools.
Richmond has tended to name its schools after early Richmond pioneers as well as both educational and political leaders. In 1957, the Richmond School Board formalized this process with a policy to perpetuate the names of Richmond pioneers by dedicating new schools in their memory. Policy changed in 1990 when the School Board decided to allow for more public input into the process by placing appropriate advertisements in the local media encouraging citizens to submit names for consideration. Strict confidence is observed and a committee of the board considers all proposals during an in-camera meeting. The procedure is to be completed within a six-month period. In recent years the submissions as well as the chosen names have tended to focus on educational and political leaders in the community along with outstanding persons from Richmond's diverse cultural elements. Examples of this trend are the newer schools: Blair, Anderson, MacNeill, McMath, Homma, and Wowk. The tradition of naming schools after pioneers is still being advocated under this process as well.