Sport Hosting
Sport tourism is an emerging market on the international stage and one that has recently been identified as a key sector market for the City of Richmond. Richmond is well positioned to take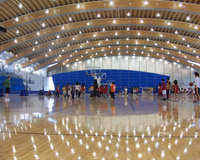 advantage of this emerging market with its facility inventory, abundance of accommodations, excellent transportation network, strong history of sport hosting by community sport groups, active educational institutions, established sport council and engaged corporate community.
The City of Richmond's Sport Hosting Office offers complimentary services to sport organizations and organizing committees in helping to bid for, plan and stage sport events in Richmond.

For more information about sport hosting visit the Richmond Sport Hosting website. Expand the menu below for more information about the Sport Hosting Incentive Grant.
Sport Hosting Incentive Grant
The Richmond Sport Hosting (RSH) Incentive Grant Program is a $100,000 annual grant program developed to provide financial support for sport event organizers to successfully bring and host high-level sport events in Richmond. The grant program has assisted over 220 events since 2010.
Visit the
Richmond Sport Hosting
website for more information about Grant Program, including the application form.
Bid Development and Presentations
The City of Richmond can help sport organizations design and develop a winning bid for provincial, national or international sport events. Bid presentation materials and collateral to strengthen a bid to make Richmond the next host city can be provided.
Volunteer Support
The City of Richmond has a strong partnership with Richmond Cares, Richmond Gives, a non-profit, charitable organization that has been bringing people and services together through promotion of volunteerism since 1972.
Site Inspections
If an event or bid requires a site inspection of any sport venue, cultural facility or accommodation, the Sport Hosting Office can help organize a professional site visit.
Contact Information