Richmond Secondary School
Richmond Secondary School (1927- ) was built when the School Board decided to build a separate facility at the corner of Cambie and Sexsmith Roads in order to better serve the secondary students in Richmond by accommodating Grades 10 and 11. Matriculation (high school graduation) was Grade 11 at this time. In 1937, Grades 8 and 9 were added and the school's name changed to Richmond Junior-Senior Secondary School. In 1952, a new facility was built near the intersection of Foster Road, now Minoru Boulevard, and Granville Avenue. From 1958 to 1995 the school was home to students in Grades 11 and 12 only and retook its old name of Richmond High, and the older facility on Cambie Road became Cambie Junior Secondary School, serving Grades 7 to 10.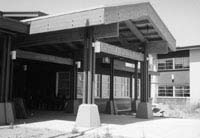 The new Richmond High School in 2004.
City of Richmond Archives Photograph
2004 43 222
In 1996, all high schools in Richmond were reconfigured to Grades 8 to 12 and Richmond High became Richmond Secondary School. On January 5, 2004, a new facility was opened at the same site, and the old structure was torn down.
The school was named after the municipality of the Township of Richmond, but multiple theories exist for the historical source of the term. Some say Hugh Boyd and his wife, who hosted the first council meeting in 1879, had the community named after Mrs. Boyd's birthplace - Richmond, Yorkshire, England. Another possibility involves Hugh McRobert's daughter naming their homestead on Sea Island (1861) Richmond View because it brought back memories of her former home in New South Wales, Australia. A third, most likely, possibility exists, which is that some of Richmond's first settlers, including the John Wesley Sexsmith family, came from the Township of Richmond in Ontario. A fourth possibility is linked to W.D. Ferris, who drafted the petition for Richmond's incorporation. This theory was proposed because it was thought Ferris was born in Richmond, Surrey, England, however Ferris was actually born in Bristol. Therefore, this theory has been proven incorrect.
An aerial photograph of Richmond High and the neighbourhood in 1953.
The old Brighouse Lacrosse Box is at the right and Minoru Racetrack on the
other side of Granville Street.  The old Richmond High was on
Foster Road which has been renamed as Minoru Boulevard. 
City of Richmond Archives Photograph 1977 1 105. Click to enlarge image.