Lord Byng Elementary School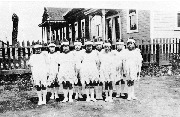 Group of students in the garden of
Lord Byng School, showing school
and Japanese Hospital in background,
1930. City of Richmond Archives
Photograph 1977 24 38.
Click to enlarge image.
In 1922, Steveston School was renamed Lord Byng Elementary School (1922- ), and four classrooms were added with financial assistance from Steveston's Japanese Canadian community.

A year later, the Richmond School Board took responsibility for the education of all children regardless of race, ethnic background, or country of origin. 

A 14-room school was built in 1930. In 1946, the school was damaged by fire, and students had to attend in shifts until it was rebuilt in 1948. Further additions to the school occurred in 1959.

In 1995, the school was replaced by a new modern facility on its No. 1 Road site south of Steveston Highway. Schools have existed on this property since 1897.
| | |
| --- | --- |
| | |
| | |
Viscount Byng of Vimy (1862-1935) was a career English officer who commanded Canadian troops in World War I. He distinguished both himself and his Canadian Corps in capturing Vimy Ridge in 1917 and holding onto it against continuous counterattacks by the German forces. As well, he won a significant victory deploying tanks for one of the first times at Cambrai in 1917.
After the war, he had the titles of Viscount (1926) and Lord Byng of Vimy (1919) bestowed upon him.
Because of his heroics involving Canadian troops during the war, he was appointed Canada's Governor General, serving from 1921-1926, coinciding with William Lyon McKenzie King's ascent to power as Canada's Prime Minister.