BC Packers Limited -- A Short History
In the early part of the twentieth century there was a growing trend towards amalgamation of fishing interests along the west coast.

British Columbia Packers Limited was created in an amalgamation that occurred locally, when in 1928, the British Columbia Fishing and Packing Company and Gosse Packing Company Limited merged, forming British Columbia Packers Limited. Gosse Packing was itself the product of earlier amalgamations involving Gosse-Millerd Packing Co., Sea Island Canning Co., Star Cannery Co. and McTavish Fisheries Ltd.
Even during its first year, company assets were substantial, and included 44 canneries, 3 cold storage facilities, 5 plants and shipyards, 2 salteries, as well as more than 100 fishing boats, packers and coastal tenders.
Due to a policy of product diversification British Columbia Packers operated fishing stations, canneries, fresh fish branches, fish-curing establishments, cold storage plants, reduction plants and shipyards.
The lower mainland was the operational centre of B.C. Packers, with numerous fishing camps, plants, canneries and other facilities located along the Fraser River in addition to many other sites along the Pacific Coast.

After World War II company operations began to expand rapidly beyond the west coast of Canada. Company facilities sprang up in Atlantic Canada and in foreign coastal areas, including the United States, Mexico and Southeast Asia.

British Columbia Packers became known internationally for its canned seafood products ("Cloverleaf"); fresh, frozen and prepared fish products ("Rupert Brand" and "Certi-Fresh"); and, for the products of the reductions plants such as fish meal, oils and fertilizers.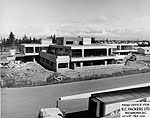 The corporate headquarters was moved from Vancouver to Steveston in 1968, a reflection of the role this Richmond neighbourhood played as home to the largest fishing fleet in British Columbia and a centre for the processing of salmon.

The Moncton Street building, designed by the same architectural firm that planned the West Coast Transmission Building in Vancouver, was the pride of B.C. Packers. It adjoined Imperial Plant, which was once the largest salmon cannery in the Commonwealth.
The decline of the west coast fishing industry became evident with the shortened seasons and reduced fishing fleet of the 1980s.

By the 1990s this once great company began to sell off its properties, trademarks and fleet.

The last processing took place in Imperial Plant in Steveston in 1997 and by 2001 the doors of the head offices closed for the last time.