Fishing Industry in British Columbia
Coastal waters produce a variety of fish, including herring, cod, sole, halibut, shellfish, and the five species of salmon that spawn in the headwaters of rivers flowing into the Pacific Ocean.
For First Nations people, this rich marine environment enabled the establishment of complex societies and led to permanent and seasonal settlements along the coast -- particularly near the salmon spawning grounds.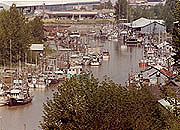 This photograph of Annieville was taken more than 100 years after the opening here of the first cannery on
the Fraser River. City of Richmond Archives, photo 2001 34 3-544.
Click here to enlarge image.
Settlement in coastal areas began to swell in the 1800s with the arrival of foreigners to the west coast. In these years Japanese, Chinese, and European immigrants joined First Nations in harvesting and processing the catch.

The commercial fishing industry on the west coast got its start when the first cannery at Annieville was opened in 1870.
 
More canneries soon followed and by the century's close, there were more than 60 salmon canneries in operation on British Columbia's coast. 


During the 20th century, fishing grew in importance for local economies as canned salmon from British Columbia was sold around the world enabling the rise of global companies such as British Columbia Packers Limited.

New canning technologies and introduction of freezer facilities enhanced the fishing industry although hand-labour was an important factor and remains so today in fish processing.
In the latter decades of the twentieth century regulatory changes in salmon fishing management by Canada's federal government, concerns about salmon survival, and profound changes in the economics of the century old fishery, resulted in reductions in the fleet and in the number of fishing companies.

Now with salmon habitat in peril from human habitation and the unknown future of climate change it is almost certain that the abundance of wild salmon and the energy and production of the commercial salmon fishing industry is in the past.