Blue Cart Recycling
All multi-level complexes like apartments and condominiums and some townhomes have a recycling depot with Blue Carts for recycling mixed paper, containers and glass. They are generally located in the garbage room or other convenient location. For information about the recycling depot location in your complex, contact your building or property manager.
Blue Cart Recycling Guide
Here's how to use the City's Blue Cart program to recycle at home:
Sort all recyclable items into the reusable indoor collection bag provided to each unit.
Take your reusable bag to the collection area for your building and empty them into the Blue Carts available.
Do not put your recyclables into a plastic bag - place them in the various recycling carts separately, and avoid stacking or nestling items together (e.g. a aluminium tin nestled inside a plastic container).
Some household items, like propane tanks, and hazardous materials are not accepted as part of curbside or centralized collection. Please contact RCBC Recycling Hotline at 604-732-9253.
Make sure containers are emptied and rinsed before placing them in the Blue Carts.
Some carts are collected from a central site each week; however, some are brought to a designated collection area. If your complex requires that carts be moved to a designated collection area, please ensure the carts are there before 7:30 a.m. on collection day, but no earlier than 8:00 p.m. the night before.
Statutory holidays will not affect collection. The only exception is Christmas Day, where collection may occur one day later if on a weekday.
Please see the Blue Cart brochure or search the Recycling Wizard for information on what items go in your Blue Carts.
For missed collection, please call 604-276-4010 or email Environmental Programs.
What goes where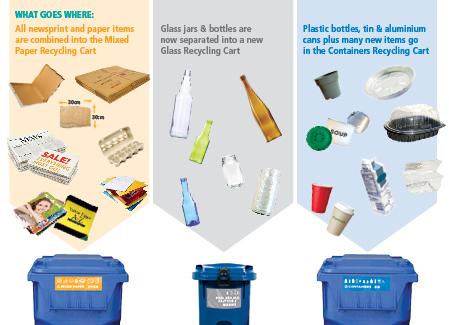 MIXED PAPER
GLASS JARS & GLASS BOTTLES
MIXED CONTAINERS
What to Recycle

Corrugated cardboard
Flattened cereal boxes
Inserts & flyers
Magazines & catalogues
Newspaper
Paper envelopes
Paper gift wrap & greeting cards
Paper egg cartons
Telephone books & other directories
Writing & home office paper
Note pads

Clear or coloured glass bottles and jars

Empty Aerosol cans & caps (food items, air fresheners, shaving cream, deodorant, hairspray)
Aluminium cans & lids
Aluminium foil & foil containers (foil wrap, pie plates, food trays)
Aseptic boxes or cartons for milk, milk-type beverages, cream, soup, broth, sauces
Frozen dessert boxes for ice cream, frozen yogurt, etc.
Gable-top cartons for milk, milk-type beverages, cream, substitute eggs
Microwavable bowls, cups & lids
Paper & plastic drink cups & lids
Plastic jugs with screw tops used for milk, cooking oil, laundry detergent, fabric softener; cleaning solutions, cleaning products, body care products, windshield washer fluids, etc.
Plastic bottles for food, dish soap, mouthwash, shampoos, conditioners
Plastic jars for peanut butter, jam, nuts, etc.
Plastic clamshells for baked goods, produce, fruit, etc. Containers are clear with hinged lid.
Spiral wound paper cans & lids (frozen juice concentrate, cookie dough, coffee, nuts, baby formula)
Tin & lids

How to Recycle

Remove plastic liners
Remove metal attachments
Flatten
Place in Mixed Paper Recycling Cart

Remove lids (Place lids in Containers Recycling Cart)
Rinse clean
Place in Glass Recycling Cart

Remove lids
Rinse clean
Place in Containers Recycling Cart

Do not include

Foil gift wrap
Ribbons or bows
Musical greeting cards with batteries
Rubber bands
Padded envelopes
Non-paper gift wrap

Ceramic mugs or other ceramic products
Drinking glass
Dishes or bowls
Eye glasses
Mirrors
Window glass

Ceramics (plates/cups)
Drinking glass
Film or soft plastics (e.g. grocery bags)
Fluorescent tubes
Motor oil containers
Styrofoam
Window glass
How to Get an Indoor Collection Bag
There is no charge for new or replacement Blue Cart indoor recycling bags. To get a new or replacement bag, please call 604-276-4010, or pick one up at the following locations:
City Recycling Depot
5555 Lynas Lane
Monday to Sunday, from 9:00am to 6:15pm
(Closed on Statutory Holidays)
City Hall
6911 No. 3 Road
Monday to Friday, from 8:15am to 5:00pm
(Closed on Weekends & Statutory holidays)
Online request: Select "Need Help" from the Recycling Wizard, then choose "I need to order bins".
Planning Recycling Locations for Multi-Family Buildings
To learn about the City of Richmond's guidelines relating to garbage and recycling for multi-family residential buildings, read the Waste Management Guidelines for Multi-Family and Mixed Use Buildings.
Helpful Links and Resources
Recycling Guide for Centralized Collection Service
Blue Cart Brochure (Translated in Traditional Chinese)