Prohibited Materials Drop-Off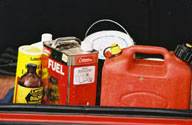 The careless handling of hazardous products can cause injury or death as well as damage to the environment. Hazardous products that are dumped in sewers or green spaces can kill or injure livestock, wildlife and plant life.
For the safety of our neighbours and their children, it is essential that we dispose of these materials carefully.
The following products are not accepted in Blue Boxes or Blue Carts. For your information, we have provided suggestions on where to dispose of these products.
This list of disposal sites is not guaranteed, and is provided for your convenience. Please call first to confirm that the site is still open to accept hazardous products, and to check hours of operation.


Antifreeze Motor Oil Empty Containers
Appliances (Small)
Automotive Batteries
Baby Car Seats and Booster Seats
Batteries and Mobile phones
Butane Cylinders
Carbon Monoxide (CO), Smoke and Combination
Smoke and CO Alarms
Electronics: Audio Visual Equipment, Computers,
Monitors, TVs, Printers, Fax Machines, Scanners,
Video Games & Accessories
Exercise and Hobby Machines
Eyeglasses
Fire Extinguishers
Gypsum Drywall
Flammable Liquids, Pesticides, Solvents, *Gasoline
Hazardous Materials - General
Hypodermic Needles
Lights & Lighting Fixtures
Lubricating (Used) Oil, Oil Filters, Plastic Oil
Containers
Medical Devices & Equipment (Electronic and
Electrical)
Musical Instruments (Electronic)
Mattresses & Boxsprings
Outdoor Power Equipment
Paint & Paint Aerosol Containers
Pharmaceutical
Propane Tanks - Refillable & Disposable (Small)
Sewing, Knitting and Textile Machines
Styrofoam - Molded Packaging & Food Containers
Styrofoam Chips (Peanuts)
TELUS/Shaw Equipment (rental or retail)
Thermostats
Tires
Bicycle Tires and Tubes
Tools - Power (Electronic and Electrical)
Toys (Electronic and Electrical) including Video
Gaming Systems and Accessories
Upholstered Furniture
Note: For items not listed, contact RCBC Recycling Hotline at 604-RECYCLE (732-9253) or Visit Metro Vancouver Recycles Website