Pesticide Management
Enhanced Pesticide Management Program
The City's Enhanced Pesticide Management Program (EPMP), adopted in 2009, aims to reduce the exposure of Richmond residents to pesticide use. This A regulation in bylaw restricts use of pesticides for cosmetic purpose, and resources are available to empower community members to make the switch to pesticide-free gardening and lawn care. The City has since ceased unnecessary use of non-exempted pesticides on all of its lands and facilities, including Richmond School District school grounds. City Parks and other departments continue to maintain city lands through innovative pest management practices.
The City provides a education programing to inform the community about the pesticide restrictions and promote natural gardening and pest solutions. This includes a series of natural gardening workshops and a phone line (604-276-4398) to help residents learn proper plant care and sustainable pest solutions.

Pesticide Use Control Bylaw
Many conventional pesticides can no longer be used for garden and lawn beautification on residential and City land.

As part of the City's Enhanced Pesticide Management Program, Richmond Council adopted the Pesticide Use Control Bylaw No. 8514 in October 2009, restricting non-essential, cosmetic pesticide use on Residential Property and City-owned land. Pesticides include such products as herbicides, insecticides, fungicides, and combined fertilizer / herbicide "weed and feed" type products. The City provides information, workshops and a variety of resources to help residents learn more natural ways of maintaining healthy lawns and gardens.
Natural Yard and Garden Care
Pesticides and Hazardous Products Disposal
Landscapers and Lawn Care Professionals Information

Getting to Know the Bylaw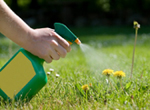 The Bylaw regulates pesticides used for what is often called the "non-essential" or "cosmetic" control of pests in lawns and gardens on residential properties and City-owned land. Pesticides include products such as herbicides (for weeds), insecticides (for insects), fungicides (fungal diseases), and combined fertilizer/herbicide "weed and feed" type products.
Details on the Bylaw can be found in these documents:
Pesticide Use Control Bylaw No. 8514
Pesticide Use Control Bylaw Info Sheet (English)
Pesticide Use Control Bylaw Info Sheet (Chinese)
Safer alternatives to conventional pesticide are available, effective and permitted under the Bylaw
To recognize these products, compare the "active ingredient" on the label of the product to the list of permitted pesticides Schedule A: Excluded Pesticides. The Bylaw also permits the use of biological pest controls, including nematodes, lady beetles and micro-organisms such as Bacillus thuringiensis (Bt) bacteria and Sclerotinia minor fungi.
For more information on Pesticide Legislation in BC, refer to the following sites:
Natural Yard and Garden Care
There are many things we can do in our yard to reduce the use of chemical pesticides, while continuing to maintain a beautiful lawn or garden.

Lawn Care Tips
Keep your lawn healthy and thick with proper lawn care practices, such as:
Increase mowing height to 8-10 cm (3-4 in). Longer grass blades mean a longer root system that is more resilient to pest and drought.
Fertilize regularly by top dressing twice a year with compost or by using organic, slow-release fertilizers.
Leave grass clippings on the lawn, rather than bagging and disposing of them (grass recycling). This naturally fertilizes your lawn with nutrients after each mow.
Water your lawn deeply: 2 to 3 cm (½ to 1 inch) once a week to promote a lush lawn with deep roots that better resist insect damage and drought.
Overseed your lawn annually with a grass seed mix will contribute to maintain a dense, healthy, and weed-free lawn.
Lime your lawn in fall and spring to counteract the soil's natural acidity. Acidic soil prevents grass from taking up key nutrients necessary for its optimal growth and health.

European Chafer Control
For European Chafer information and control, please visit the Invasive Species page or read the European Chafer Beetle Management brochure.
Glow Green
The Grow Green Guide was created in partnership between Metro Vancouver and UBC Botanical Garden, to provide a step-by-step guide for starting and maintaining beautiful and sustainable gardens, specifically designed for the climate and ecology of this region.
Yard Waste Disposal
Please take care to dispose of your yard and garden waste appropriately. Use a Green Can, Green Cart or take your trimmings to the City Recycling Depot for proper disposal.
Appropriate Yard Waste Disposal

Pesticide Disposal
Domestic pesticides are hazardous substances and must be disposed of properly. The City's Recycling Depot accepts consumer pesticides that have both the poisonous symbol (skull and crossbones) and a Pest Control Product (PCP) number (e.g. PCP Reg. #2464). The maximum accepted container size is 10 litres.
The City's Recycling Depot is located at 5555 Lynas Lane (close to River Road) and is open from Wednesday to Sunday from 9:00 a.m. to 6:15 p.m. It is closed on Mondays, Tuesdays, and all statutory holidays.

Hazardous pesticides require proper neutralization, and are not allowed in household garbage or in Landfills. Never dispose of pesticides into nature, storm drains, or down household drains. Hazardous waste disposal companies will pick up unknown or leftover pesticides in containers without labels for a fee. Please call the RCBC Recycling Hotline at 604-RECYCLE (604-732-9253) for hazardous waste disposal companies.

Frequently Asked Questions
How does the City of Richmond's pesticide regulation compare to other municipalities within the Lower Mainland?
Richmond's Pesticide Use Control Bylaw is considered one of the most stringent in the Metro Vancouver region. Important points to note in Richmond's Bylaw include:
NO infestation exemptions or permits: the Bylaw does not permit any other exemption beyond those required under the BC Regulation 144/2004. See Pesticide Use Control Bylaw No. 8514 for details.
Applies to Hardscapes: the Bylaw restricts the use of conventional herbicides to control weed growth in cracks and pavement.
Permits Biological Control: the Bylaw permits the use of biological control such as nematodes, Bacillus thuringiensis, Sclerotinia minor (fungi) and others to control pests.
How do I know what products are permitted and what products are restricted?
Richmond's Pesticide Use control Bylaw permits the use of "Permitted Pesticides" (Schedule A: Excluded Pesticides) and Biological Controls, as defined in the Bylaw.
There are many chemical compounds that are restricted under the Bylaw. Most of the common pesticides are now restricted for lawn and garden beautification use, including: 2,4-D, Casaron, Dicamba, Glyphosate, Carbaryl and Malathion.
What is the City doing to encourage public support for natural and low-toxicity landscaping practices?
The City's campaign to raise awareness of the Bylaw provides residents with information on low-toxicity landscaping practices and solutions.
Free workshops offered to the public promote low-maintenance and natural gardening and lawn care practices.
Residents and strata councils are advised that it is their responsibility to ensure that contractors adhere to the restrictions of the Bylaw.
What are the fines for using restricted pesticides?
The Bylaw prescribes escalating fines for residents and/or businesses that do not comply. Fines are of escalating severity: $100 will be fined for the first offence, $500 for the second offence, and $1000 for the third offence. Any violation thereafter is punishable with a fine of up to $10,000.
How does the bylaw relate to Public Health issues?
The Bylaw only applies to non-essential, cosmetic use of pesticides to control pests. It does not apply to rodent, mosquito control or indoor pests. However, the City advocates the Integrated Pest Management approach in such circumstances, and enforces the requirements of the City's Public Health Bylaw No. 6989 – Subdivision Four – Pesticide Application – Notification and Signage Regulations.
Useful Links
Contact Information
Call 604-276-4398 for any questions or concerns regarding the new Pesticide Use Control Bylaw or for more information on sustainable lawn and year care practices.