Report Illegal Dumping
Dumping on Public Property
Illegal dumping has increased in Richmond, costing taxpayers tens of thousands each year. Illegal dumping is harmful to our environment, unsightly and illegal. City of Richmond Bylaws pose stiff penalties for dumping illegally on City lands, including:
A $1,000 fine for illegally dumping garbage
Requiring people who dump garbage illegally to remove the waste and restore the area at their cost
Recovering costs incurred by the City for cleaning up illegal dumping and restoring the area in situations where the offender failed to remove the waste
Prosecution under City of Richmond Bylaw 6803 Solid Waste and Recycling Regulation Bylaw, Amendment Bylaw 8100
$200 Reward
Residents who contact the City to report illegal dumping are eligible for a $200 reward. The report must lead to bylaw conviction of the offenders.
Reporting Illegal Dumping on Public Property
Dumping in Progress
To report illegal dumping in progress (you are observing an individual dumping waste illegally at the time), contact:
Richmond RCMP at 604-278-1212, or
Community Bylaws at 604-276-4345
Event Witnessed
In situations where illegal dumping was witnessed, but the offender is no longer at the scene, please use these options to report:
Click on and complete our on-line reporting form. Click on the submit icon to send to the City's Environmental Programs Department.
During office hours (Monday – Friday, 8:15 a.m. – 5:00 p.m.). Contact the Environmental Programs Department at 604-276-4010 to report the incident. Please have the information ready that is contained on the on-line reporting form, including:

Date & Time
Vehicle Description, including license plate
Description of the offender
Description of materials dumped
Location
Your personal contact information

Outside of regular office hours, contact the Works Yard Dispatch at
604-270-8721. Have the information ready as per Item 2, above.
Reporting Illegal Dumping on Private Property
To report illegal dumping on private property, contact the Richmond RCMP at 604-278-1212.
How You Can Help
Residents can help with the illegal dumping problem by making sure their waste is properly disposed.
Garbage Tags
To dispose of extra bags/cans of garbage, residents can purchase a
$2.00 garbage tag
, available at City Facilities. One tag is required for each additional can or bag of garbage over 2 containers per household/week. The additional cans/bags of garbage will be collected on your regular garbage day.
Vancouver Landfill
For over-sized or other items that are not accepted in our curbside program, the following options are available:
Transport the item to the Vancouver Landfill, located in Delta. Charges apply, however, the City offers a $5 Garbage Disposal Voucher which allows disposal of up to $20 at the Vancouver landfill. For loads over $20, City of Vancouver charges apply. Visit their website at http://vancouver.ca/home-property-development/landfill-and-transfer-station.aspx for information on charges, hours of operation, etc.
Directions to Vancouver Landfill
From Richmond, travel South on Highway 99, take Exit 28 (second exit), immediately turn left onto River Road and follow landfill signs.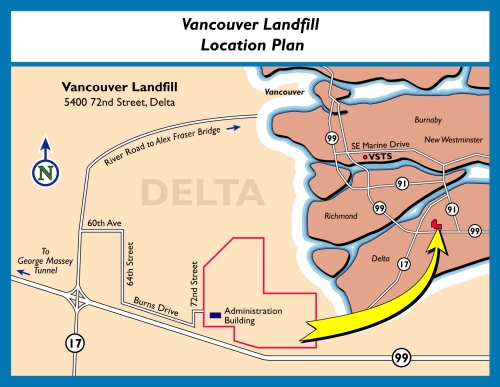 Waste Collection Services
Contact the City's garbage collection service provider at 604-513-2264. Collection and disposal fees apply.
Hire a reputable waste disposal firm. When hiring a waste disposal company, ensure they are reputable and ask where and how they will dispose of the material. Require that they provide documentation and/or a receipt from an authorized disposal site.
Commercial Dumpsters
Do not dispose of waste in commercial dumpsters. This has a negative impact on the businesses who rent these containers specifically for waste generated by their place of business. It is an offence under the
Solid Waste & Recycling Regulation Bylaw 6803
to place garbage on another person's property.
Look for Alternatives
Before making the decision to dispose of items, consider whether donating the item to a charity is a reasonable option. If so, contact the RCBC Recycling Hotline at 604-RECYCLE (732-9253) for a list of charities in your area or search online
Metro Vancouver Recycles website
.