Traffic Signal Maintenance
The Traffic Signals group oversees maintenance, modifications and general repairs of approximately 395 traffic signal devices to provide safe, reliable and efficient operation for roadway users. Police, City staff, citizens, and other public agencies report traffic signal maintenance needs.
Preventative and corrective maintenance efforts and costs can be related to the quality of design practices, construction methods, and the use of quality parts. Effective preventative maintenance practices can decrease the cost of operating and maintaining a traffic signal infrastructure - resulting in a safe and reliable physical plant.
Preventive Maintenance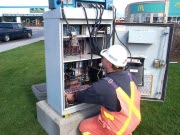 A large part of maintenance work is inspecting or replacement of traffic control equipment before it fails, including:
semi-annual inspections and testing of control equipment, intersection hardware, vehicle detector loops, pedestrian pushbuttons, poles, signs, signal heads, and mounting hardware;
annual re-lamping of light bulbs for walk and yellow signal lenses, and cleaning of all signal lenses; and
re-lamping every 8-10 years of all Red, Yellow, Green, Walk/Don't Walk, left/through arrow, and countdown timers, which are LED (Light Emitting Diodes) type lamps.
Corrective Maintenance
Corrective maintenance is performed on an hierarchical priority basis considering the seriousness of reported problems, current work tasks and available equipment and manpower. Many reported problems can be verified by traffic signal monitoring functions available via the central traffic control system.
Problems generally responded to during regular business hours are:
signal head alignment adjustments;
vehicle detector tuning/repair;
pedestrian pushbutton repair;
communications network troubleshooting and repair;
motor vehicle accident damage repair;
minor physical plant upgrading;
controller/cabinet and communications equipment troubleshooting and repair;
repair/replacement of signs and damaged signal equipment; and
signal timing adjustments.
In order to reduce overtime maintenance costs, only the more serious problems are attended to after hours such as:
signal in flash;
any signal display out on single overhead primary signal head and red light out on a secondary signal head;
seriously misaligned signal head, which may be confusing to motorists;
motor vehicle accident damage to signal equipment; and
exposed wires or unstable equipment.
To report a suspected traffic signal problem, contact Traffic Signals at trafsig@richmond.ca.
Modifications/Upgrades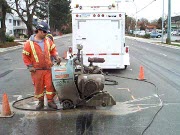 Traffic signal modifications or upgrading result from additional control needs, advances in technology, infrastructure renewal or roadway geometry changes. Examples are:
development of new or remodelled intersections in conjunction with adjacent land use development;
installation of communications cable and modem equipment for communications between intersections and the Central Traffic Control computers;
pedestrian push button upgrades with a more reliable and user friendly design;
replacement and relocation of degraded traffic signal poles, and equipment;
implementation of advanced vehicle detection;
installation of left turn signals; and
installation of audible/accessible devices.