Museums & Heritage Sites
About Heritage Sites
Heritage includes anything of a physical, cultural or social nature that is unique to, and valued by, a community that can be passed from generation to generation. In Richmond, heritage is valued and pride is taken in its preservation and presentation.

Heritage Update 2021

The Museum and Heritage Services Year in Review 2021 showcases Richmond's varied and vital investment in museums and heritage and the essential role played in building and sustaining a diverse urban community that is socially and economically healthy.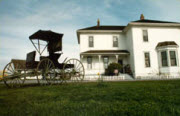 Public Heritage Facilities
The Richmond Museum is publicly-owned by the City and provides a wide range of collections, temporary and travelling exhibits, programs and special events that showcase Richmond's shared history. The other heritage facilities listed in this section are also publicly-owned with all but one owned by the City of Richmond, and jointly operated by the City and their volunteer support groups. The exception is The Gulf of Georgia Cannery, which is owned by Parks Canada and operated by the Gulf of Georgia Cannery Society.
These facilities are open to the public and many of them offer public programs and services. Visit the
Program Registration
page to browse and register.
Select from the following links or use the fly out menus on the left under Museum & Heritage Sites to find more information on the following:
The City of Richmond presents Richmond's stories at the heritage sites to both locals and visitors to the area. Developed in 2021, the

Steveston Heritage Sites Destination Development Plan directs the marketing and promotion of the City's heritage sites with the goal to increase visitation.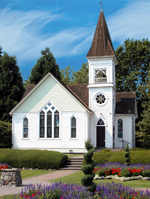 Other Heritage Resources
There is a wide-variety of heritage resources in Richmond, many of which are privately owned. See the Heritage Inventory Online and the Heritage Planning section to learn about the City's heritage preservation programs and the role of the Heritage Commission.

Heritage Research
Archival records are evidence of the past that have value and impact for everyone. Careful preservation of these archival records is a necessary step in protecting Richmond's heritage. The City of Richmond Archives holds the records of the municipal government and it also acquires records by donation from individuals and private companies. Public access is available for research purposes. Visit the Archives for further information.