Cultural Harmony
The City of Richmond is actively involved in building cultural harmony in the community. By bringing people together in dialogue, arts and cultural programming or holding inclusive consultations, the City is committed to reducing barriers to participation and promoting a shared sense of community.
Cultural Harmony Plan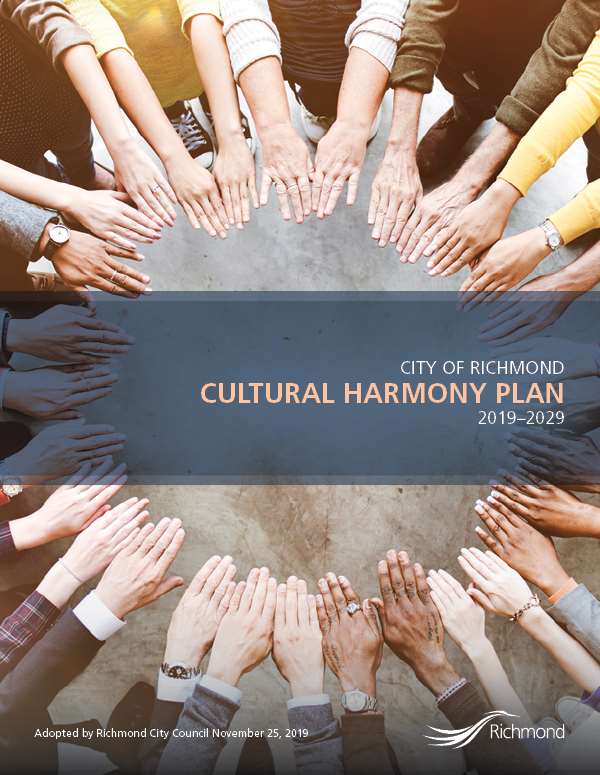 In November 2019, City Council adopted the 2019-2029 Cultural Harmony Plan, which guides the City's approach in enhancing cultural harmony among Richmond's diverse population. This plan sets out five strategic directions and 27 recommended actions to be completed over a 10-year period.
The Cultural Harmony Plan Progress Report for 2019–2021 provides a high-level summary of the accomplishments and endeavours the City, in partnership with the community, has accomplished to enhance intercultural connections among Richmond's diverse population from 2019 to 2021.
Cultural Harmony Plan Progress Report for 2019-2021
Hate Has No Place
The City of Richmond and Richmond RCMP work together to ensure that Richmond continues to be a safe and welcoming community. Read about the Hate Has No Place campaign to learn more: News Release - Mar 31, 2021.
Statement Against Racism and Violence
On May 25, 2020, Richmond City Council adopted and endorsed the following statement against Racism and Violence related to the COVID-19 pandemic:
In Richmond, we are a community that celebrates a rich history of culture, diversity and heritage linked to the arrival and influence of immigrants that began over a century ago.

The City of Richmond does not - and never will - condone or tolerate racist behaviour in any form. Such attitudes and actions do not reflect our community's cultural diversity or the spirit of inclusion that we are all proud of.

Events of the past few months have created uncertainty, frustration and fear for some. But that is no excuse to cast blame on others. COVID-19 should not be blamed on any single culture or country and it is certainly not the fault of anyone in our community.

Now, more than ever, we must stand together and be true to our shared values of diversity, inclusion and respect. Racial and discriminatory responses and actions have no place in Richmond. They have no place in our society.


If you've been the victim of a racially motivated incident, or have witnessed one, seek help and call the police.
Call 9-1-1 for an act in progress
If it is not an emergency, call the Richmond RCMP non-emergency line at 604-278-1212
If you wish to remain anonymous, call Crime Stoppers at 1-800-222-TIPS (8477), or visit them online at www.solvecrime.ca.
Richmond Intercultural Advisory Committee (RIAC)
The RIAC advises the City on initiatives that enhance intercultural harmony and strengthen intercultural cooperation in Richmond. RIAC's intercultural vision is "for Richmond to be the most welcoming, inclusive and harmonious community in Canada." Learn more about the RIAC and the City's Advisory Bodies.
Contact
Planner 2 (Inclusion)
Community Social Development
604-276-4104