Heritage Inventory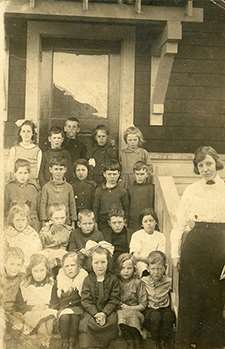 First Class to attend General Currie School
on the front steps of the School (1921)
City of Richmond Archives 2001-10-4
A heritage inventory is a list of resources that contribute to a community's heritage character. Richmond has 93 sites on its heritage inventory.
Being listed on the heritage inventory does not mean that the property is protected or is formally recognized by Council. However, it can be a useful planning document to identify and understand local heritage resources and help increase awareness about Richmond's history. The identified heritage resources may be integrated into land use planning processes, and the inventory can be used to establish an effective heritage conservation program.
Use the Online Heritage Inventory to learn about the resources or to check if your property is listed in the inventory.
Heritage Inventory Update
In 2018, City Council endorsed a project to update the heritage inventory. The report discussing the update is aimed to go to Council in early 2020 and will be posted on this webpage when it is available.
For further information, please contact:
Policy Planning
Planning and Development Division
6911 No. 3 Road
Richmond, BC, V6Y 2C1
Phone: 604-276-4108
Fax: 604-276-4052
Email: CommunityPlanning@richmond.ca