Community Heritage Register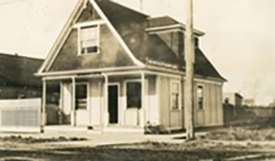 Northern Bank, now City of Richmond's Steveston
Museum (1914) - City of Richmond Archives
2006-39-12
A local government may, by resolution, establish a community heritage register that formally recognizes resources with heritage value and character. Although being listed on the heritage register does not provide legal protection, it formally recognizes significance of the listed resources and enables monitoring of changes to them.
Resources identified in the heritage register may also be eligible for various federal and provincial financial incentives and are listed on the BC Register of Historic Places and the Canadian Register of Historic Places.
The City of Richmond adopted the Richmond Heritage Register in 2003. Currently, there are 43 resources listed on the Register.
Name of Resource
Address
1. Abercrombie House
13333 Princess Street
2. Arts & Crafts Cottage
9280 Alberta Road
(formerly 7011 Ash St)
3. Boeing Aircraft Production Plant
5400 Airport Road
4. Branscombe House
4900 Steveston Highway
5. Brighouse Homestead & Heritage Trees
6900 River Road
6. Brighouse Lacrosse Box
7840 Granville Avenue
7. Britannia Shipyard - Cannery Office
12451 Trites Road
8. Britannia Shipyard - First People's House
12451 Trites Road
9. Britannia Shipyard - Japanese Duplex
12451 Trites Road
10. Britannia Shipyard - Murakami Boatworks
12451 Trites Road
11. Britannia Shipyard - Murakami Residence
12451 Trites Road
12. Britannia Shipyard - Richmond Boat Builders
12451 Trites Road
13. Britannia Shipyard - Shipyard & Cannery Complex
12451 Trites Road
14. CBC Transmitter Site
9460 No. 4 Road
15. Cold Comfort Farm
2840 River Road
16. CPR Power Poles/Railway Tracks
4005 Moncton St
17. Eldstrom House
9711 Finn Road
18. Ferry Loading Ramp
Adjacent to 3051 Moncton Street
19. Gerneral Currie School
8220 General Currie Road
20. Greater Vancouver Sewage Treatment Plant (Iona)
1000 Ferguson Road
21. Gulf of Georgia Cannery
3300 Chatham Street
22. Gulf of Georgia Net Shed
3300 Chatham Street
23. Hangar No. 1 - South Terminal
5160 Airport Road
24. Hangar No. 2 - South Terminal
4680 Cowley Crescent
25. Ida Steves House
4431 Steveston Highway
26. London Farmhouse
6511 Dyke Road
27. Martial Arts Centre
4251 Moncton Street
28. McKinney House
6471 Dyke Road
29. Minoru Chapel
7191 Granville Avenue
30. No. 1 Road Pumpstation
Adjacent to 4000 Bayswater Street
31. Northern Bank
3811 Moncton Street

32. Paramount Cannery East Building
12620 Trites Road
33. Paramount Cannery West Building
12620 Trites Road
34. Parsons House
Behind 2640 River Road
(PID 011-566-906)
35. Phoenix Seine Net Loft
4000 Bayview Street
36. Pierrefonds Gardens
7191 Granville Avenue
37. Richmond Cenotaph
6911 No 3 Road
38. Scotch Pond
2220 Chatham Street
39. South Arm Presbyterian Church
11051 No. 3 Road
40. Steveston Telephone Exchange
12004 No. 1 Road
41. Steveston Courthouse
12011 3rd Avenue
42. Stilt Piling House 1
12451 Trites Road
43. Stilt Piling House 2
12451 Trites Road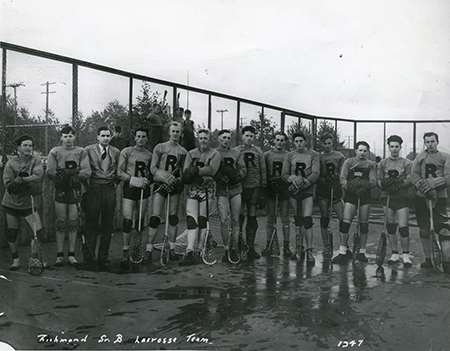 Richmond Sr. B Lacrosse Team at Brighouse Lacrosse Box (1947)
City of Richmond Archives 1977-7-9
For further information, please contact:
Policy Planning
Planning and Development Division
6911 No. 3 Road
Phone: 604-276-4207
Fax: 604-276-4052
Email: CommunityPlanning@richmond.ca