Piers and Waterfront Areas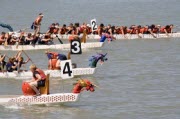 Richmond is an island community at the mouth of the Fraser River. With a variety of facilities, landmarks and distinct spaces set within a beautiful river environment, Richmond's waterfront is an ideal spot to host any outdoor event.
See Information for Event Planners for more information about hosting an event in Richmond.
Waterfront Park Locations
Waterfront Facilities
Fishing Piers
Richmond's waterfront features a number of public fishing piers that offer spectacular views of the Fraser River.
Note: Fishing licences are required to fish off any pier, dock, float or from the Fraser River's edge at all times. See BC Fishing for more information and an online application form.
Discover more about The Waterfront.