Finding Child Care in Richmond
BC has expanded child care funding – making child care more affordable and more accessible. Visit BC Funding for Child Care for more information.
Families might be eligible for the Affordable Child Care Benefit. On September 1, 2018, the Affordable Child Care Benefit replaced the Child Care Subsidy. This new funding helps families with the cost of child care, depending on factors that include family size, type of care and household income. Information about and applications for the Affordable Child Care Benefit are available through the Child Care Resources & Referral Centre at 604-279-7020 or the BC Ministry of Education and Child Care.
Licensed Child Care Programs Classifications
VCH Classification
Maximum # of Children & Other Specifications

Child Care provided In-Home

Family Child Care
Maximum 7 children
In-Home Multi Age Child Care
The licensee must be an Early Childhood Educator and a maximum of 8 children (infants – 8 years old)
Group Child Care (All programs need to be run by Early Childhood Educators and be located in a non-residential space)
Group Child Care - Under 36 months
Maximum 12 children

Group Child Care - 30 months to school age
Maximum 25 children, with no more than 2 children younger than 36 months
Group Child Care - School age (5-12 years)
Care provided before and after school hours, a maximum of 30 children if all children are in grade 2 or higher (if there are children that are in preschool, kindergarten or grade 1, the maximum is 24 children)
Preschool - 3 months to school age
Care provided for a maximum of 4 hours per day, with a maximum of 20 children
Multi-age Child Care
Maximum 8 children
Resources for Finding Quality Child Care
Child Care Resource & Referral Centre - Includes information about quality child care in Richmond. Trained staff can assist parents in choosing the right child care program for the child's needs and will provide referrals to child care centres and updates lists of all licensed and registered child care providers in Richmond.
BC Ministry of Education and Child Care - Links to resources for parents including a Parents' Guide to Selecting and Monitoring Child Care in BC.
Locating Licensed Child Care in Richmond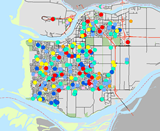 The Richmond Child Care Locator was developed with assistance from Vancouver Coastal Health. This easy-to-use map displays all licensed child care programs in Richmond as well as related contact information. The locator can be used on a smart phone, tablet or desktop computer.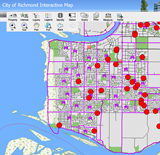 The Richmond Interactive Map allows users to search the geographic information system (GIS) for various informational layers including child care, zoning, parks, schools and community centres. The map also helps users gain a better understanding of the neighbourhoods where each child care program is located.