Urban Wildlife in Richmond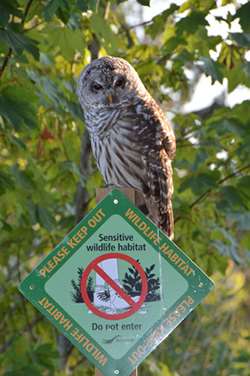 Richmond - like most cities on the edge of the wilderness - is host to a large number of non-human species, some of which were here before permanent human occupation, others that have actively been brought with us, and others that, once human activities had changed the environment to their liking, happily moved in. Many of us only become aware of these animals when they negatively affect our suburban lives, when a sidewalk is fouled, when a lawn is damaged or when there are unwelcome, non-human sounds coming from the attic or crawl space.
The ones that live among us, sharing city and neighbourhoods, can do so because they are very adaptable, and find our habits and the habitats we create—structures as well as green spaces—easy places to find food, shelter and in those that breed here, nurseries for their young. Another factor favouring their survival is the absence of natural predators such as wolves and cougars, which were eradicated from Richmond long ago.
The following information covers a number of species that are known to most of us and familiar to many. All have activities that can cause conflict with humans as they live their lives among ours; these species include:

Barn Owls
Bats
Beavers
Bird Nest Boxes Program
Coyotes
Eastern Grey Squirrel
Glaucous-winged Gull
Heron
Northwestern Crow
Rabbits
Raccoons
Snow Geese
Striped Skunk
The sections above provide information on why and how these animals are here, what they do here, how we encourage their presence and what we can do to discourage them from damaging our homes and gardens.
Common "pest" species not included are rats and house mice. Call Environmental Health (Richmond Health Services) at 604-233-3147 for rodent issues.