Richmond Sports Wall of Fame

The Richmond Sports Wall of Fame was established in 2015 to celebrate the history of sport in Richmond and to provide a focal point for the community to recognize the outstanding achievements of Athletes, Masters Athletes, Teams, Coaches, Officials, Builders, Pioneers and Special Achievements.
The Richmond Sports Wall of Fame and digital kiosk are prominently located in the Richmond Olympic Oval and are free for public viewing. The Wall of Fame is located in the lobby on the first floor entering from the parking lot and the digital kiosk is on the second floor as part of the History of Sport Exhibit. Each inductees name is displayed on the Wall of Fame, and the digital kiosk highlights each inductee's achievements through script, photos and videos.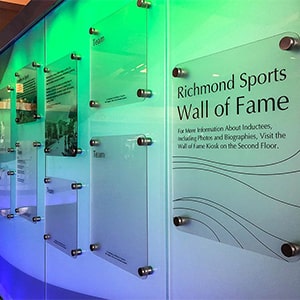 Nomination Process
Nominations are accepted until December 31 of each year for induction in the following calendar year. Any individual or association may submit a nomination by either:
Scan and/or email to sportswalloffame@richmond.ca
Mail to:
City of Richmond
Attention: Sports Wall of Fame Nominating Committee
City of Richmond, Community Services Division
5599 Lynas Lane
Richmond, BC V7C 5B2
Resource Documents
Richmond Sports Wall of Fame - Terms of Reference
Richmond Sports Wall of Fame - Selection Criteria
Richmond Sports Wall of Fame - Brochure
Nomination Forms
Nominations for the Richmond Sports Wall of Fame are accepted in eight categories: Athlete, Masters Athlete, Builder, Coach, Official, Pioneer, Special Achievement and Team. Find the specific category application below.
Nomination Form - Athlete
Nomination Form - Masters
Nomination Form - Builder
Nomination Form - Coach
Nomination Form - Official
Nomination Form - Pioneer
Nomination Form - Special Achievement
Nomination Form - Team
Induction Ceremony
Mayor and Council host the induction ceremony in City of Richmond Council Chambers, where inductees are honoured. Inductees are presented with a framed certificate along with their name added to the Richmond Sports Wall of Fame at the Richmond Olympic Oval.
Inductees
Following is a list of all the Richmond Sports Wall of Fame inductees from past years:
Location & Contact Information
Richmond Olympic Oval
6111 River Road,
Richmond, BC
Email: sportswalloffame@richmond.ca