Events and Resources
Community Bike Events
2023 - Go by Bike Weeks

Go by Bike Week (formerly Bike to Work Week) is a regional initiative inaugurated in 2007. The event aims to reward existing cyclists and encourage new cyclists to try cycling to work and to continue cycling after the event. Participants are encouraged to log trips in order to be entered to win daily prizes. Register today at btww.ca. Seasonal events take place throughout the year.
Fall Events
The fall 2023 event takes place Oct 16 to 29. These events feature Celebration Stations with a mechanic on-site providing free bike maintenance to participants. Free cycling resources, prizes and snacks are also part of this fun event! Visit Richmond's Celebration Station:
Thu, Oct 19, 7:00am–9:00am | Richmond Hospital

Fri, Oct 20, 4:00pm – 6:00pm | Canada Line Bikeway and River Drive
Spring Events
The spring 2023 event takes place May 29 to June 4. This week-long event features Celebration Stations with a mechanic on-site providing free bike maintenance to participants. Free cycling resources, prizes and snacks are also part of this fun event! Visit Richmond's Celebration Station:
Fri, Jun 2, 4:00–6:00pm | Canada Line Bikeway and River Drive


21st Island City, by Bike Tour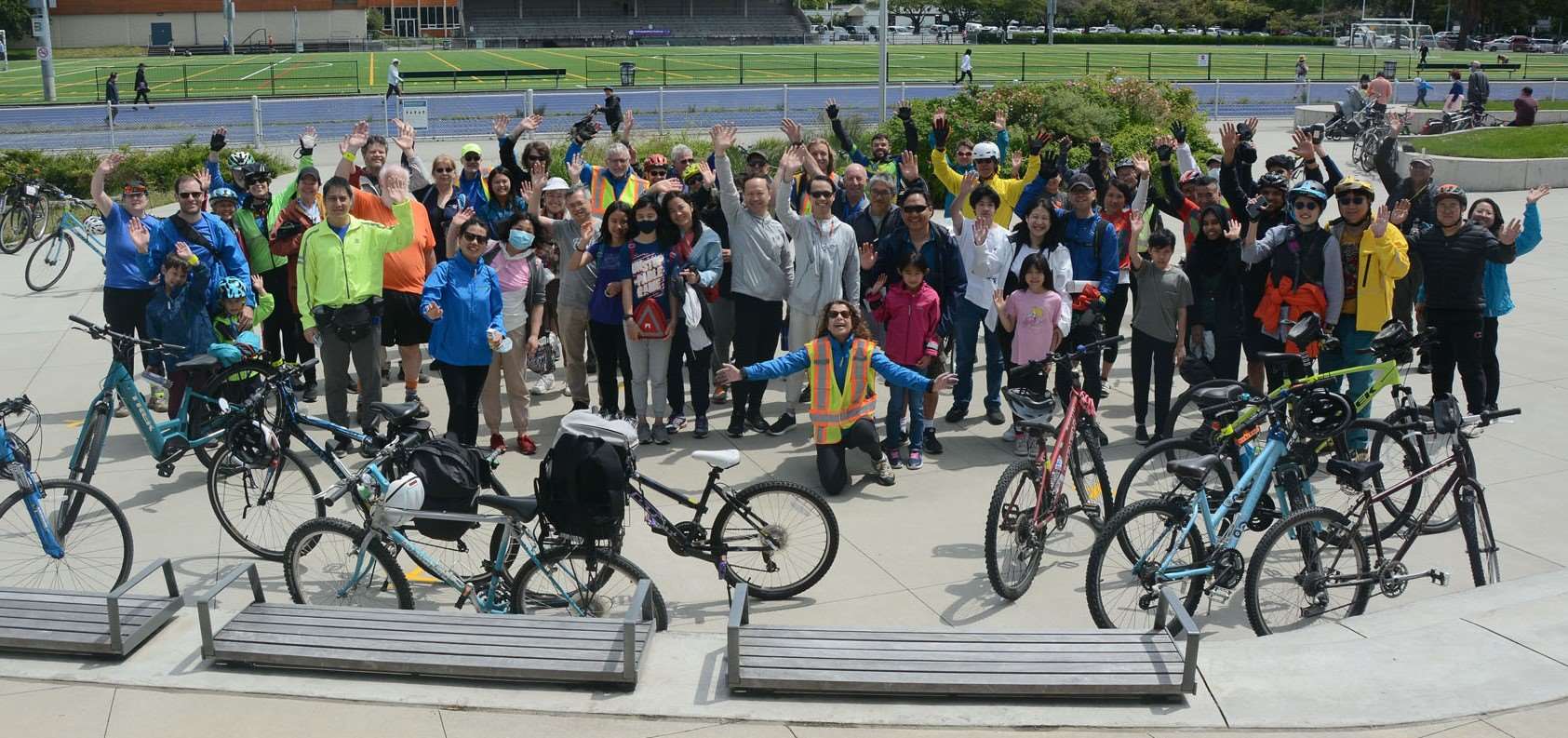 In 2001, the City of Richmond and the Richmond Community Cycling Committee jointly staged the inaugural "Island City, by Bike" tour - a free community event that offers guided cycling tours of some of the City's bike routes. The annual event occurs each June during Bike Month. Here are the event details for the 21st annual Island City, by Bike tour:
Sun, Jun 11, 2023
Start/Finish at Thompson Community Centre
Activities:

9:30am-10:45am Bicycle and helmet safety checks
10:00am Long ride (22.5km) departs (10+ years) - see route map below
11:00am Short ride (8.5km) departs (8+ years) - see route map below
12:30pm Refreshments and raffle prize draw

Registration required - Event ID# 235755


3 Ways to Register
604-276-4300, Mon-Fri, 8:30am-5:00pm
In-person at any community facility

Event support and contributions from:
Commuter Challenge
The Commuter Challenge is an annual competition held during Environment Week (first week of June) between Canadian cities to see which one can cut its air pollution the most by using active and/or sustainable modes of transportation such as walking, jogging, cycling, in-line skating, teleworking and/or taking the bus or carpooling. Visit the national Commuter Challenge website to find out how to participate locally and be counted.

Cycling Resources
Government Resources
Ministry of Transportation & Infrastructure has jurisdiction over provincial roadways and highways, some of which are located in Richmond. The Ministry's website has cycling information that includes provincial cycling policy and Motor Vehicle Act links, plus the schedule of the George Massey Tunnel bike shuttle.
Vancouver Airport Authority has developed a network of on- and off-street bike routes on Sea Island. While YVR airport is located within the City of Richmond, the Authority has jurisdiction over much of the land and roadways on Sea Island.
BC Ferries connects the Mainland with the Gulf Islands and Vancouver Island, as well as with the Sunshine Coast. Bicycles are accepted on all ferries for an additional fee. For schedule and fare information, contact BC Ferries (1-888-BCFERRY or 1-888-223-3779).
Insurance Corporation of BC (ICBC) works with local governments to improve road safety for all users. Resources include:
Tips for motorists and cyclists on sharing the road safely.
Sharing the Road, covers who drivers share the road with, such as cyclists and pedestrians, and how to share the road safely with them.
TransLink is the regional transportation authority and is responsible for bus service in the region, the SeaBus to the North Shore and the SkyTrain. Bike services include bus bike racks and bike lockers at SkyTrain stations and Park and Ride lots. Contact TransLink Customer Service (604-953-3333) for schedule and fare information. TransLink has also developed the Regional Vancouver Cycling Map & Guide.

Active Transportation Associations & Publications
HUB: Your Cycling Connection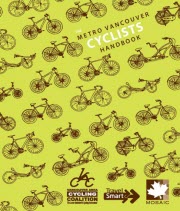 is a registered non-profit organization formed to present a clear voice for transportation cycling in the Vancouver-Metro Vancouver area. HUB has a handbook for new cyclists that is available in five languages: English, simplified Chinese, Punjabi, Tagalog and Korean. The handbooks outline rules of the road, safety tips, helmet and bicycle fitting, and list resources to find out more about safe and enjoyable cycling.
Better Environmentally Sound Transportation (BEST) is a non-profit society that is committed to making communities healthier places to live by promoting sustainable transportation and land-use planning, and pedestrian, cycling and transit-oriented neighbourhoods.
The Great Trail contains information on the 22,000-kilometre long Trans Canada Trail. The website has further information (including maps) on BC's portion of the Trail that travels from the Rockies in the east, through the Kootenays, the Okanagan, the Fraser Valley and the Metro Vancouver area to Victoria.
Bike Sense: The British Columbia Bicycle Operators Manual is a comprehensive guide to the rules of the road, bike handling, traffic skills and the enjoyment of cycling for life. Prepared by the Greater Victoria Cycling Coalition, Bike Sense provides information on traffic laws and riding strategies to help cyclistsunderstand their rights, responsibilities and how best to protect their own safety in traffic. The manual was written and reviewed by professional cycling skills instructors, cycling advocacy organizations, bicycle trained police officers and provincial authorities responsible for making and interpreting our traffic laws.

British Columbia Cycling Coalition is a non-profit society that represents the interests of cyclists provincially and seeks to secure their recognition in policy and programs affecting transportation cycling.
BC Randonneurs Cycling Club organizes rides in accordance to the rules of randonneur cycling, sometimes referred to as marathon cycling, which can be defined as fast long-distance cycling.
Cycling British Columbia is a not-for-profit association that is the sole provincial sport governing body for mountain bike racing, road racing and track racing.
Vancouver Bicycle Club a recreational cycling club for all types of riders that offers road rides, mountain bike rides and both supported and unsupported tours.