Bath Slough Recreational Trail
The pedestrian bridge in the middle of this trail section has been closed due to safety considerations. Visit the News & Events page for future updates.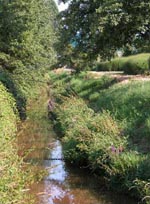 The Bath Slough Recreational Trail follows its namesake historic slough from River Road, west of Vulcan Way and south to Cambie Road. This interior trail neighbours a number of industrial complexes and retail and coffee shops and provides a main access point to the Bridgeport Industrial Park lands. The south end of the trail ends across from King George Park. Featuring interesting boardwalks and footbridges, this trail is a great place for people who live and work in the area to take an afternoon stroll.
Note: Exercise caution as this trail crosses two major streets and is located in a high traffic area! Be aware of both passenger and commercial vehicular traffic at all times when using this trail.
2021 Trails Map Bridgeport Bath Slough
The Bath Slough area is the site of an innovative program led by City of Richmond Sustainability staff, designed to educate and engage citizens in protecting water quality. Trail visitors can help by reporting spills, or anything being washed down storm drains to City of Richmond Bylaws at 604-276-4345.