Richmond Heritage Awards
About Richmond Heritage Awards
The Richmond Heritage Awards annually recognizes the accomplishments of individuals and organizations for the conservation of historic places and for promoting an awareness of Richmond's diverse heritage. Historic buildings, cultural and natural heritage landscapes, artifacts, and oral and written histories – all are rich resources that contribute to our shared community identity.
Some of the ways an individual or organization may earn special recognition are:
Preservation, restoration, rehabilitation or adaptive reuse of a historic place, such as a building or structure, or conservation of a cultural heritage landscape.
Promotion or awareness of local heritage through education, outreach or advocacy.
Contribution to local knowledge of heritage in public history or interpretation projects.
2023 Richmond Heritage Awards
The recipients of this year's Richmond Heritage Awards were announced at the City Council meeting held on Monday, July 24, 2023.
The 2023 Richmond Heritage Award recipients are:
---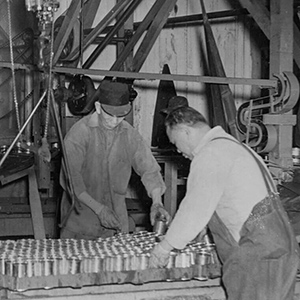 Richmond Museum Society
For the new Richmond website that provides opportunities to engage with Richmond's rich history and culture. It also hosts online exhibits and provides short films and access to research resources and an artefact collection database. Visit Richmond Museum for further information.
Photo: Commercial salmon cannery in 1871
---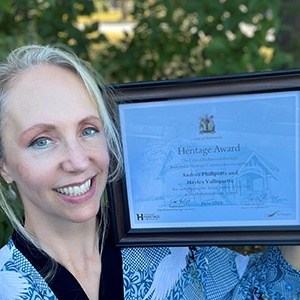 Andrea Phillpotts and Hayley Valliquette
For customizing the course content for Social Justice 12 at McMath Secondary School. These teachers took an innovative and unique approach to educating about the injustice of the Japanese Canadian internment by using primary sources connected to Richmond and making extraordinary efforts to connect with different community members in their development of the course content.
Photo: Andrea Phillpotts, Teacher at McMath Secondary School
---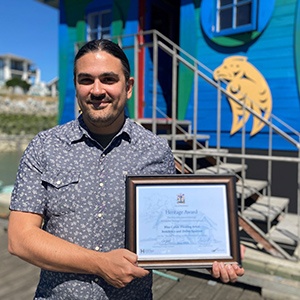 Blue Cabin Floating Artist Residency (Floating Artist Residency) and Debra Sparrow
For the "Skeins: Weaving on the Foreshore" program. Debra Sparrow was invited to participate in the Blue Cabin artists in residency "Skeins: Weaving on the Foreshore", a celebration of Coast Salish weaving practices. The program highlighted the importance of Indigenous cultural heritage practices in Richmond. Details can be found at the Blue Cabin or Other Sights.
Photo: Anthony Meza-Wilson, Blue Cabin
---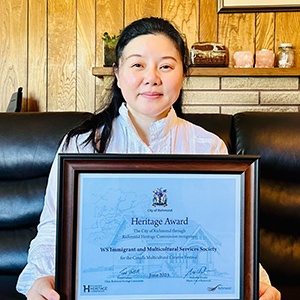 WS Immigrant and Multicultural Services Society
For the Canada Multicultural Creative Festival, which is an annual event that provides an opportunity for people from various backgrounds to share their own stories and celebrate many cultures, traditions and beliefs that make up a diverse cultural heritage. For example, the Celebrate Canada 150 Culture Days from Far and Wide – Multicultural Creative Writing Collection 2017 was published for the annual Canada Multicultural Creative Festival; it includes 150 original writings such as poems, essays, short stories, dramas, songs, letters, plays, Lushi and Haiku.
Photo: Sophia Zhang, WS Immigration and Multicultural Services Society
---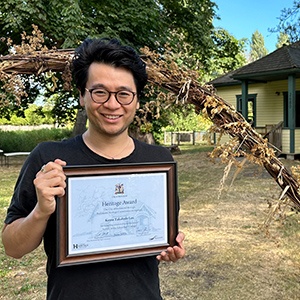 Kevin Takahide Lee
For fostering relationship to the social history of the Edwardian Cottage. Kevin is a grandson of Hiroyuki Koyanagi, who lived in the Edwardian Cottage that is now home to Terra Nova Nature School's licensed preschool program. Kevin used theatre arts to educate the community, including the preschoolers at Terra Nova Nature School, on the forced internment and dispossession of Japanese families during World War II, enriching the community's understanding of this important piece of social history.
Photo: Kevin Takahide Lee in front of the Edwardian Cottage
---
Contact Information
For further information, please contact:
Policy Planning Department
Phone: 604-276-4207
Email: CommunityPlanning@richmond.ca
Past Award Winners
2022 Heritage Awards Recipients
Ken Chow, Interface Architecture
For his work on the mixed use building at 3755 Chatham Street, which highlights the traditional narrow lots typical to Steveston Village. The exterior draws inspiration from four of the local historic buildings to create four facades in a single building.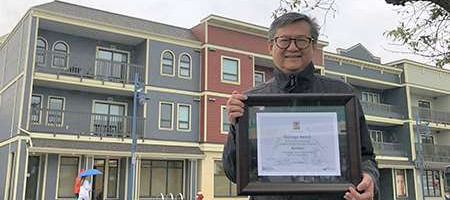 Photo: Ken Chow, Interface Architecture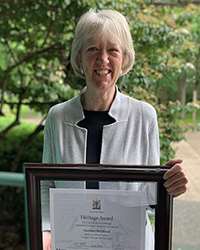 Christine McGilvrary, President, Friends of the Richmond Archives
For her contribution as a host of the "Journey Through Time" online and telephone history sessions designed particularly for seniors who are not able to leave their homes or take part in outdoor programming during the pandemic.
Photo: Christine McGilvray, President, Friends of the Richmond Archives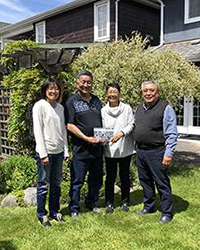 Tonari Gumi, (Japanese Community Volunteer Association) and the Japanese Canadian Cultural Centre
For the publication of "From the Sea and Shore", a record for honouring the foodways of an immigrant community and the resilient people who sustained them. Collected from the senior members of the Steveston Japanese Canadian Community, the recipes reflect their frugality and ingenuity in preserving Japanese tastes and culture using ingredients local to the west coast.
Photo: Members of the "From the Sea and Shore" Project Team
Cornerstone Christian Academy (CCA)
For the CCA's school Heritage Fair Program. The CCA teachers and their librarians spend countless hours training their students on how to use archival material and conduct on-site research, and CCA has developed a positive culture of learning which will hopefully lead to a lifelong interest and awareness of history and heritage.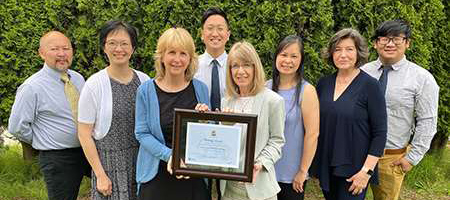 Photo: Cornerstone Christian Academy Teachers
The Gulf of Georgia Cannery Society and the Initiative for Student Teaching and Research in Chinese-Canadian Studies
For its Fish Tales project, a community based story-telling project. In 2021, the Gulf of Georgia Cannery Society partnered with the Initiative for Student Teaching and Research in Chinese-Canadian Studies at UBC. The Fish Tales project documents and shares personal Chinese-Canadian in an effort to create community ties and a sense of belonging, through the topic of "seafood".
2021 Heritage Awards
Canceled due to COVID-19

2020 Heritage Awards Recipients
Richmond Museum Society
For their contribution to public history and heritage education through their recently launched Self-Guided Historical Walking Tours at Terra Nova and Brighouse, undertaken as a part of a new COVID-19 outreach initiative.
Richmond Hospital Healthcare Auxiliary
For their contribution to the conservation of historic places through their volunteer-led efforts to begin restoration of the protected heritage building known as the "Steveston Methodist Church" which is now home to the Auxiliary's Thrift Shop at 3711 and 3731 Chatham Street.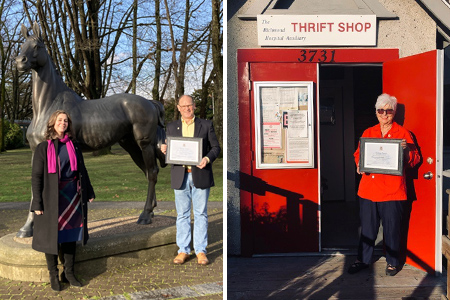 Left Photo: Richmond Museum Society Greg Walker and Golmehr Kazari of the Richmond Museum Services Department | Right Photo: Richmond Hospital/Healthcare Auxiliary Thrift Shop Ursula Van Duin
2019 Heritage Awards Recipients
Sea Island Heritage Society
For raising public awareness on the history of the Sea IsIand. The Sea Island Heritage Society is a small registered charity dedicated to collecting, cataloguing, recording and disseminating the history of Sea Island in Richmond. The Society was organized in 2001 and meets monthly at the Sea Island Community Centre. It also hosts a few open houses and other events throughout the year.
Richmond Garden Club
For stewarding the Paulik Neighbourhood Park. The Paulik Neighbourhood Park is a six-acre park in the City Centre area which features a 1.5-acre garden. It was a family garden owned by the Paulik family beginning of the 1930s. A skilled group of volunteer gardeners from the Richmond Garden Club has been stewarding the Paulik Neighbourhood Park for 11 years and continues to maintain Mrs. Paulik's 28 perennial garden beds.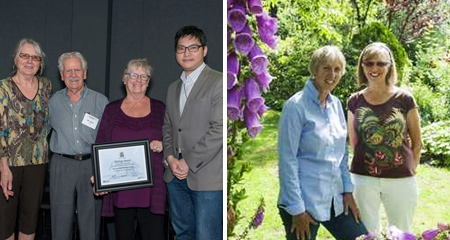 Photo left: The Sea Island Heritage Society members received a 2019 Heritage Awards at the Richmond Regional Heritage Fair Closing Ceremony | Photo right: Richmond Garden Club received a 2019 Heritage Awards for their stewardship of Paulik Neighbourhood Park
2018 Heritage Awards Recipients
Mr. Reiner Siperko and Mr. Bob Hodder
For the retention and reuse of the original concrete mural on the new-mixed development called the "Kimura Building."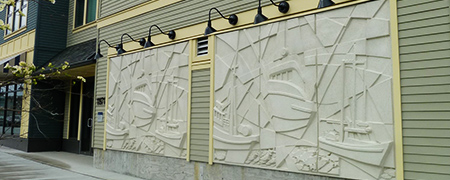 Photo: The murals on the Kimura Building
Steveston Historical Society with Hugh McRoberts Secondary School Students
For its walking tour vignettes program, a five-part theatrical production about living and working in Steveston in the year 1917.
Mr. John Campbell, a Volunteer with the Friends of the Richmond Archives
For his on-going efforts and dedication to develop two social media programs, "Friends of the Richmond Archives" Facebook page and "Outside the Box" blog.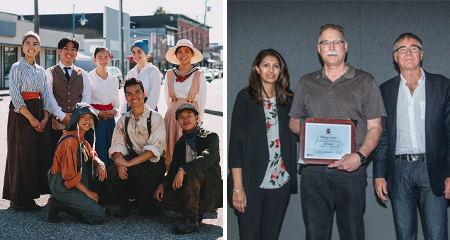 Photo left: Steveston Historical Society's Walking Tour Vignettes Program Participants | Photo right: Mr. John Campbell (middle), a Volunteer with the Friends of the Richmond Archives, with members of the Richmond Heritage Commission