Ecological Network
About the Ecological Network
The Ecological Network concept was first introduced in the City's new 2041 Official Community Plan, in Chapter 9: Island Natural Environment (an Ecol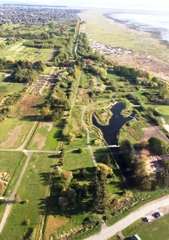 ogical Network Approach). This section of the OCP provides direct support for the development of an Ecological Network concept in Richmond. The Ecological Network is defined by Richmond's natural and semi-natural areas, including terrestrial, shoreline and riparian zones.
Ecological Network Management Strategy

In order to protect, enhance and expand a diverse, connected and functioning Ecological Network, Richmond City Council adopted the

Ecological Network Management Strategy
in September 2015. The strategy provides a framework for managing and guiding decisions regarding the city-wide system of natural areas in Richmond and the ecosystem services they provide on City, public and private lands. This strategy, intended to be opportunistic and collaborative, will set out priority areas, initiatives and projects for the on-going and long-term implementation of the Ecological Network (EN). There are many City actions, initiatives and projects currently underway that are supported by a range of regional and City policies, regulations and plans. The Strategy will seek to complement, align and inform the current planning and regulatory context in order to strengthen and enhance Richmond's natural spaces. Click here to see the September 2015

Report to Council
.
Ecologically valuable areas in Richmond (regardless of ownership) are identified as part of the Ecological Network. This includes larger areas such as Richmond Nature Park, Terra Nova Rural Park, Sturgeon Bank, South Arm Islands, and smaller areas such as backyards, parks, school yards, fields and meadows. These areas support habitat for birds and wildlife, including migratory shorebirds and waterfowl, and salmon mudflats. The protection and enhancement of the EN enriches the health and livability of our communities and provides access to nature within our increasingly urban neighbourhoods.

2018 ENMS Update Report
Ecosystem Services
The Ecological Network also provides critical 'ecosystem services', which are the benefits that the city and its residents obtain from the environment. These ecosystem services contribute to the ecological health of water, air and soil and the well-being of residents. Ecosystem services provided by the Ecological Network include:
Rainwater storage and filtration
Erosion protection
Areas for wildlife foraging
Food production
Pollination
Recreation and scenic areas
Green Infrastructure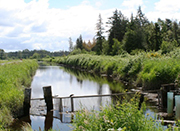 Green infrastructure is also a key part of the Ecological Network, especially in more urbanized areas that may lack natural or semi-natural areas. Green infrastructure complements more traditional infrastructure (i.e. roads, sewers) and is often comprised of engineered components that employ natural features. Green infrastructure advances the resiliency and sustainability of City infrastructure, and examples include:
Stormwater ponds that capture rainwater and reduce runoff
Riparian corridors that capture and convey runoff, but also provide habitat
Agricultural hedgerows and trees that support wildlife habitat
Community gardens that support pollinators