Community Stewardship & Activities
Richmond Nectar Trail
Help us expand the Richmond Nectar Trail!
This third annual event aims to educate residents and business of the importance of pollinators and encourage them to act by planting and maintaining small plots of pollinating plants throughout Richmond. This year we launch on National Bee Day and celebrate our recent designation as a
Certified Bee City
.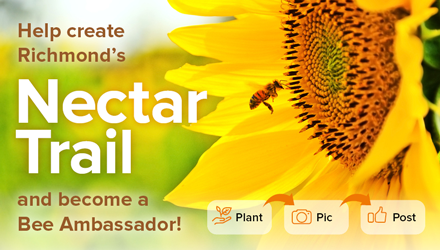 Mark your garden's location on our interactive map until September 20, 2022. This way we can identify gaps along routes and grow Richmond's Nectar Trail with stepping stone habitats so pollinators can easily traverse the City.
Participating in Richmond's Nectar Trail is easy:
Visit Let's Talk Richmond to mark your gardens location and post photos
Register a garden on the Richmond Nectar Trail Sign Up page or email your name, postal code and flower flower photos to nectartrail@richmond.ca and we will post them on the map.
Maintain the garden of pollinating plants and post photos of the garden on social media with the hashtag

#RmdNectarTrail

until Sep 30, 2022

The more people who participate and grow pollen rich plants on their property, the more successful the trail expand across Richmond.
EXPLORE THE NECTAR TRAIL Interactive Map
SIGN UP FOR Richmond Nectar Trail