About Invasive Species
Common Reed
Common Reed – Provincial EDDR species
Common reed is an erect perennial grass that can grow between 2-5 meters tall with feather like flower clusters ranging from 15-35cm long. It is found in freshwater, brackish tidal wetlands, coastal shorelines, wetlands, sloughs, canals, ponds, ditches and watercourses.

It is easily confused with native subspecies (Phragmites australis spp. americanus) which is found in the lower Fraser Valley. Identity must be confirmed by an expert and samples can be sent to the Provincial Early Detection and Rapid Response coordinator. It reproduces by seed and root fragments which can be carried in water, contaminated soil and on vehicles and equipment. Any mowing or roadside maintenance will lead to spread.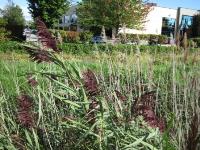 Impacts on the Environment
Common reed alters the hydrology of water flow which can impact the City's ditches and watercourses and causes safety hazards by obstructing driver's sight lines. As a threat to aquatic ecosystems, the common reed has the potential to spread into agriculturally productive croplands such as blueberry and cranberry fields. Ecologically, it modifies wetland hydrology by limiting the amount of shallow open water. This in turn displaces native vegetation and reduces suitable habitat for wildlife in wetlands.
Removal and Control
Common reed is a provincially listed Early Detection, Rapid Response noxious weed. If you think you may have common reed, contact the City of Richmond for guidance on proper identification.
City Efforts
The Richmond site was the first confirmed common reed site in BC. The Early Detection and Rapid Response partnership with the province resulted in the full containment and control of this infestation due to the City's prompt response.
For more information:
Phone: Invasive Plant Phone Line 604-276-4316
Email: invasiveplants@richmond.ca