About Invasive Species
Parrot's Feather
Parrot's Feather
(Myriophyllum aquaticum)
Parrot's feather is an aquatic invasive plant, likely introduced to Richmond around 2007 as an aquarium or pond plant that was dumped into a watercourse and spread from there. Often chosen for its aesthetic beauty, this plant has invaded every continent in the world (except Antarctica) from its native habitat in the Amazon River in South America. In Richmond, parrot's feather poses a serious problem, as it clogs waterways that our community relies on for flood prevention.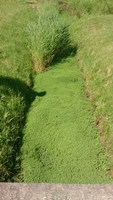 Description and Identification
Parrot's feather is an aquatic plant found exclusively in waterways.. It has submerged growth as well as emergent leaves that form dense mats on the surface of the water, and can cover entire waterways. Emergent leaves are bright green, 2-5 centimetres long and resemble small fir trees or feathers with lots of divisions along the leaf. It is often seen in the City's drainage canals and sloughs.
Impacts on the Environment
Dense mats of parrot's feather out-compete native species, decreasing local biodiversity. It can cause water to become stagnant, altering the chemical and physical characteristics of the aquatic ecosystem. Parrot's feather spreads rapidly via fragmentation of leaves and roots. It is important to try not to disturb these plants as every 4 millimetre fragment is capable of floating downstream and establishing a new population.
Parrot's feather also has negative economic impacts as it clogs Richmond's drainage canals which then require monitoring and maintenance.
Removal and Control
Control of parrot's feather is very difficult and there is no perfect solution. Herbicide use in aquatic environments is limited for parrot's feather because of its potential to negatively impact the aquatic environments. To date, studies have indicated herbicide use has minimal effects on parrot's feather due to the waxy emergent foliage. Mechanical removal of parrot's feather is also not recommended due to the risk of fragmentation and spread of the plants.
City Efforts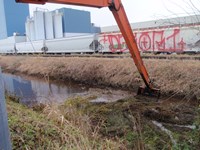 Under the City's Invasive Species Action Plan, City staff are conducting trials to determine effective management strategies to control parrot's feather infestations. Trials to date include mechanical removal, geotextile installation and shading techniques.

For more information:
Phone: invasive plant phone line 604-276-4316
Email: invasiveplants@richmond.ca