About Invasive Species
Knotweed Species
Knotweed Species
(Fallopia japonica, Fallopia x bohemica, Fallopia sachalenensis, and Polygonum polystachyum) 
Knotweed species are one of the most aggressive invasive plants. They spread by seed, root, and stem fragments carried in water, contaminated soil and on vehicles and equipment. Knotweed has the ability to destabilize crucial infrastructure, including the Richmond dike system. It is capable of growing through cracks in cement, asphalt, house foundations, and walls. Native to eastern Asia, these plants are also often compared to icebergs because the growth above ground is only a fraction of the growth occurring in the root system.

Description and Identification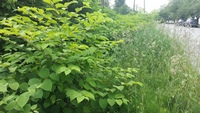 Knotweed is a semi-woody perennial that can grow up to 3 metres tall. They are bamboo-like in appearance with reddish stems and have large, oval leaves with pointed tips. The flowers of knotweed are creamy-white and bloom in clusters during the late summer and fall. It can be found in gardens, on roadsides, and growing near houses and old buildings. 

Impacts on the Environment
Knotweed species form dense thickets and often out-compete native plant species and decrease local biodiversity. It can spread easily via fragmentation, so it is important not to leave any pieces behind when removing knotweed because they can spread and establish new populations.
The negative economic impact of knotweed is not limited to the damage of important infrastructure such as building foundations. There are also negative economic impacts both through investment in controlling the species, and the containment of the species.
If you find any knotweed species near your home, be sure to have it treated immediately to prevent foundation destabilization.
Removal and Control
The most effective knotweed control method is multiple applications of herbicide (while treatment of knotweed near watercourses is allowed, there are restrictions and best management practices to be followed). Herbicide needs to be applied repeatedly to ensure the roots of the plant are destroyed and will not re-grow. Although not recommended, plants can also be removed mechanically by digging out roots as long as care is taken to remove all fragments.
If you have knotweed on your property, cut off the flowers and seed heads and put in a bag in the garbage. Allow knotweed stalks to dry out completely and put into the municipal green waste bin; do not put in a backyard composter.

City Efforts
Under the Invasive Species Action Plan the City has started treating priority areas and mapped infestations.

To mitigate spread and ensure best management practices are followed, "Do Not Mow" signs have been installed that ensure City workers avoid mowing the infestations which causes significant spread by fragmentation. As well, the signs have served as an outreach tool for the public to properly identify knotweed infestations.
For more information
Phone: Invasive plant phone line 604-276-4316
Email: invasiveplants@richmond.ca

Resources
ISCBC Knotweed Factsheet