About Invasive Species
European Chafer Beetle
European Chafer
(Rhizotrogus majalis)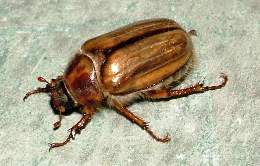 The European chafer beetle is an introduced insect to BC that has become a serious lawn pest in the Lower Mainland. Since it was first discovered in 2001, the geographic range of the pest has grown substantially, particularly here in Richmond. The chafer larvae (grubs) damage lawns and boulevards by feeding on the roots of turf grass, resulting in the appearance of brown (dead) grass patches in affected lawns.

The major damage to lawns occurs when crows, skunks and other animals dig up the lawn in search of these large, white grubs that occur in early spring and fall. Adult beetles don't cause any significant damage. They are short-lived and do not bite or sting.
Description and Identification
Adult European chafers are tan or brown beetles resembling June beetles and measure approximately 1.5cm in length. The grubs, which cause most of the turf damage, measure approximately 2 to 2.5cm, are soft, white and C-shaped with tan-coloured heads and six prominent legs.
| | |
| --- | --- |
| | |
| Adult European Chafer | European Chafer Larvae ( White Grubs) |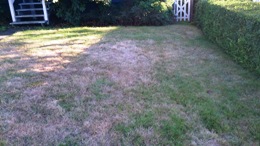 Infested lawns may feel "spongy" due to the grubs tunnelling below. Turf will commonly be wilted or dead and easy to pull back, revealing the feeding larvae. Damage is seen in the fall to early spring when the grubs are full-grown. You may also see birds, skunks, and other animals digging up your lawn in search of grubs.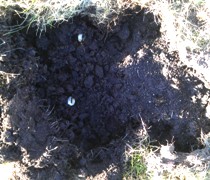 To monitor the presence of chafer grubs in your lawn, cut a 30 by 30cm square of sod, and fold it back to count the grubs underneath. Cut 5 sections per lawn. Search through the soil beneath the grass and count the number of grubs. If more than 5-10 grubs are found per section, chafer control is recommended.
Biology and Life cycle
Chafers complete their life cycle in one year which can lead to rapid population increases. Adult beetles emerge from the soil in June and mate in swarms at dusk. In July, females lay up to 20 to 30 eggs in the soil. The eggs hatch in about 2 weeks and the small grubs begin to feed on the grass roots. Infested turf will usually be wilted or dead and easy to pull back, revealing the feeding larvae. Damage is typically seen in the fall to early spring when the grubs are full-grown. Feeding continues throughout the winter until they pupate in May, except during prolonged periods of freezing temperatures.
European Chafer Illustrated Life cycle

Management and Control
Minimize lawn damage caused by chafer grubs by keeping your turf healthy and thick with proper lawn care practices:
Increase mowing height to 8-10 cm (3-4 in).

Longer grass blades mean a longer root system that is more resilient to the larvae feeding.

Fertilize regularly

by top dressing twice a year with compost or by using organic, slow-release fertilizers. Leaving grass clippings on the lawn, rather than bagging and disposing of them (grasscyling), also naturally fertilizes your lawn with nutrients after each mow.

Water your lawn deeply

: 2 to 3 cm (½ to 1 inch) once a week to promote a lush lawn with deep roots that better resist insect damage and drought. Follow the water use restrictions in effect from June 1 to September 30.

Overseed

your lawn annually with a grass seed mix will contribute to maintain a dense, healthy, and weed-free lawn.

Lime your lawn in fall and spring

to counteract the soil's natural acidity. Acidic soil prevents grass from taking up key nutrients necessary for its optimal growth and health.
Use barriers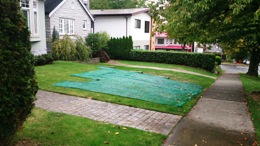 Even if the grass is dead, some residents opt to cover the affected areas of their lawns, with netting, fencing or chicken wire, to prevent further damage to the turf from foraging animals.
Reduce exterior lighting
Chafer beetles are attracted to light when mating. Reducing exterior lighting on your property, particularly during the egg-laying season in June and July, can help reduce the number of grubs in your lawn.
Alternative groundcovers
Another option is to replace infested lawns with other low-maintenance ground-cover plants such as kinnikinnick, salal, creeping thyme, ornamental grasses, Dutch white clover or other sustainable turf alternatives.
Apply nematodes during the third week of July
The application of nematodes has proven to be the most effective approach in managing the European chafer. Nematodes are naturally-occurring microscopic roundworms, which move through wet soil seeking out the chafer. They are not dangerous to humans, animals or to the environment. Products containing the Heterorhabditis bacteriophora nematodes for chafer control are available at local garden supply stores. Check product packaging to make sure it contains this type of nematode, as there are other nematode species sold for other pests.

Nematodes are most effective when applied from mid to the end of July when chafer larvae are small and most vulnerable to nematode infection. Check with your local garden centre as some require advanced ordering for the nematodes in the spring.

Water Exemption Permits
A Water Use Exemption Permit for nematode application is only issued during Stage 1 and Stage 2 water restrictions. Permits issued under Stage 2 water restrictions will remain valid under Stage 3 water restrictions within the permits validity period. All permits expire immediately if Stage 4 water restrictions are declared. Permits are available at City Hall: 6911 No. 3 Road, Monday to Friday 8:15 am to 5:00 pm. Permits cannot be renewed.
Eligibility:
Must provide proof of purchase of nematodes via receipt or invoice from a company to the applicant's address showing nematode treatment is required. A company can apply for nematode permits on behalf of a property.
Permit card must be displayed prominently at the permit location and viewable from outside of the premises.
Allow City of Richmond access to property to verify compliance.
Metered residents fee: $0
Non-metered residents fee: $35
For a successful nematode application:
The application area must be well irrigated before nematode application to prevent dry soil in the root zone. It is recommended to irrigate for 2 hours preceding the application.
Mix and apply product according to label directions and preferably apply in the evening or on a cloudy day to maximize success.
Irrigate again for 2 hours after the application and continue to irrigate twice per week for 3 weeks. A watering permit allowing you to sprinkle outside the restricted times will be required. Permits and related information are available at the front service counter at Richmond City Hall, 6911 No. 3 Road.
Chemical Insecticides
Because of their biology, the effectiveness of chemical pesticides is limited on chafer grubs.
Currently, there are no insecticides for use on chafer allowed under the City's
Pesticide Use Control Bylaw No. 8514
. Check the pesticide list on the Bylaw's
Schedule A: Excluded Pesticides
for permitted pesticide products in Richmond.
Lawn Restoration
Removal of soil from a site infested with chafer grubs is not recommended, as this may accelerate the spread of the European chafer grubs in the region.

To repair damaged lawns:
Lightly rake over damaged turf areas to remove the thatch and debris.
Top dress with 1-2 cm of compost or lawn topdressing soil mix.
Reseed abundantly the damaged lawn areas.
Lightly rake seeded area for good seed/soil contact.
Water the seeded area frequently ensuring that it remains moist until 50% of the seeds have germinated.
Boulevards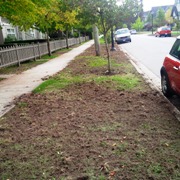 On boulevards immediately fronting an owner's property, under the City's Boulevard Maintenance Regulation Bylaw No.7174, the property owner is responsible for the maintenance of turf grass.
For More Information
Visit our Natural Yard and Garden Care section for upcoming Educational workshops.


European chafer beetle brochure

For detailed information on European chafer beetle in Richmond, please contact:
Phone: 604-276-4398 (Pesticide Info Line) OR
Email: invasiveplants@richmond.ca