About Invasive Species
Giant Hogweed
Giant Hogweed (Heracleum mantegazzianum)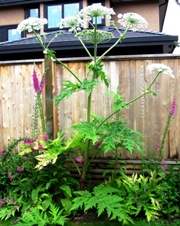 Giant Hogweed is an exotic invasive plant found in Richmond. This hazardous plant poses a serious threat to human health and to our natural ecosystem. Contact with sap from the stem, hairs and leaves can cause severe burns and blisters on the skin, while contact with the eyes can cause temporary or permanent vision problems.
The City of Richmond has implemented an "Early Detection - Rapid Response" approach to manage this noxious plant and minimize its spread in our community.
Description & Identification
Giant Hogweed is an unusually large plant, growing from 1.5 to 5 meters tall, with meter wide, umbrella like, clusters of small white flowers. The leaves are up to 3 metres wide, with very coarse and serrated edges, like a jagged saw. The stem is hollow with dark red or purple spots. It can be found in any area with moist soil, including vacant lots, natural areas, riverbanks, roadways, and also on residential properties.

National Fact Sheet

Giant hogweed is easily mistaken for its close relative, cow parsnip (H. maximum), which is native and widespread in Richmond. Cow parsnip ranges in height from 1-3 metres and is generally a smaller plant than giant hogweed. Cow parsnip can also cause mild irritation when sensitive skin types come in contact with the plant. It is a native species to B.C. and is not managed by the City. For a detailed comparison of these two plants, consult the National Fact Sheet on Giant Hogweed provided above.
Health & First Aid
Contact with sap from the stem, hairs and leaves can cause severe burns and blisters on the skin, while contact with the eyes can cause temporary or permanent vision problems.
Anyone who has direct contact with hogweed sap should:
Wash the affected area immediately with mild soap and cool water,
Keep exposed skin out of the sunlight, as the toxicity increases with light, and
Seek immediate medical attention if blistering occurs.
Contact with sap can occur by brushing against any broken plant parts, handling plant material, or even by touching tools or mowing equipment that was used in infested areas. The BC Drug and Poison Information Centre can also be called for more health advice at 604-682-5050 in the Lower Mainland Area, or toll free at 1-800-567-8911.
Impacts on the Environment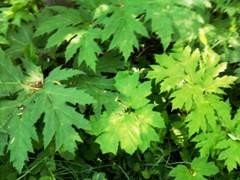 With its enormous size, and prolific seed capacity of up to 100,000 seeds per plant, giant hogweed can spread rapidly and dominate vegetation if not properly managed, reducing the amount of habitat for native plants and wildlife. In public spaces, giant hogweed infestations can prevent access to and lead to the loss of enjoyment of an area. In winter, infested areas are prone to erosion of stream banks by exposing bare soil to frequent coastal rainfall.
Removal & Control
Rapid elimination and control is critical to stop the spread of giant hogweed throughout our community.
Be advised that precautions and safety measures are required when removing this plant to avoid exposure to sap and to avoid burns.
The City advises that you do not attempt to remove the plant yourself, but hire a professional and contact the Invasive Plant Council of BC at 1-800-WEEDSBC or the Greater Vancouver Plant Council at 604- 880-8358 for more information.
If you should choose to remove the plant yourself, wear protective clothing covering all exposed skin and eyes when handling giant hogweed, including rubber gloves, rubberized raingear, and a facemask or safety goggles. Ideally, removal work should proceed on cloudy days.
Removing the flower head in the summer before it turns to seed is another technique to slow the spread of giant hogweed. Once developed, seeds remain viable in the soil for number of years. Monitoring of infested sites and destruction of new seedlings should be expected for the next couple of years, following the removal of mature plants.
Reporting Giant Hogweed
Taking steps now means our community can fight this invasive plant and prevent it from further spreading in our environment. The City is monitoring public lands for giant hogweed and asking for the community's help to rapidly identify and eliminate new infestations of giant hogweed in Richmond.
For More Information or to Report Giant Hogweed:
Phone: Invasive plant phone line 604-276-4316 (24hr – 7 days a week)
E-mail: invasiveplants@richmond.ca (if possible, include a picture of the suspected plant(s) for rapid identification).

City Efforts
Under the Invasive Species Action Plan, known infestations are continually monitored on City lands and promptly treated on a priority basis. City staff gives guidance to private property owners on best management practices and treatment methods.
Resources


City of Richmond Giant Hogweed Fact Sheet


Work Safe BC Giant Hogweed Fact Sheet