Cycling in Richmond
E-Scooter Pilot Project
What are E-Scooters?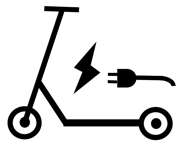 E-scooters are electrically powered kick scooters distinct from mopeds or motorized wheelchairs. They have a standing platform between the front and rear wheels, and a steering handlebar that acts directly on the front wheel(s) of the device. E-scooters in BC may have two to four wheels, and the top speed is limited to 24 km/h. E-scooter riders must be at least 16 years of age and wear a helmet while riding. The full legal definition and equipment requirements of an e-scooter can be found on the Province's website.
E-Scooter Pilot Project
The City is participating in the Province's Electric Kick Scooter Pilot Project. Effective July 27, 2021, community members are allowed to legally ride an e-scooter on some municipal streets and paved pathways shared with pedestrians as defined by regulations within the City's Traffic Bylaw No. 5870 and Public Parks and School Grounds Regulation Bylaw No. 8771. Read more about the City's pilot project and the bylaw amendments.
Information for Riders
The City's bylaws identify the conditions of where and how e-scooter users may operate in Richmond during the pilot project. E-scooters are permitted to operate only on the following routes:
streets with cycling facilities such as bike lanes;
local streets without cycling facilities, defined as a street without lanes lines or a directional dividing line and a maximum speed limit of 50 km/h or less;
streets without cycling facilities that have a directional dividing line and a maximum speed limit of 30 km/h;
off-street paved pathways next to the roadway or in parks that are signed and marked for shared use with pedestrians.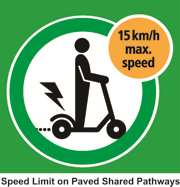 E-scooters are not permitted on sidewalks or on unpaved trails. Maximum speeds are:

20 km/h on roadways
15 km/h on paved pathways shared with pedestrians
Safety Tips
Generally, the rules of cycling in BC apply to the use of an electric kick scooter on a permitted road in a pilot community. Get safety tips and learn about how to safely operate your electric kick scooter.
Shared E-Scooter System
The City issued a Request for Proposals for the development and operation of a pilot public e-scooter share program on April 29, 2021 with a closing date of May 26, 2021. Following an evaluation process and a report to Council on the results, Council approved Lime Technology, Inc. as the operator of the service for a period of up to three years at no cost to the City. Launch of the service is anticipated in late 2021/early 2022.
Please point your mouse on Transportation, Traffic & Parking in the main menu on the left to see the list of topics in the fly out menus.