Recycling & Garbage
Collection Schedule

Important Notice: Glass and foam recycling temporarily suspended effective Monday, November 22

Recycle BC has advised it has temporarily suspended the collection of glass and foam recycling effective Monday, November 22, 2021 until further notice. This takes effect in the Metro Vancouver region, including the City of Richmond. The suspension is a result of flooding in other parts of BC and the BC State of Emergency. This means that starting Monday and until service through Recycle BC resumes:
the City will not be collecting glass recycling bins/carts from single family and multi-family residences
the Richmond Recycling Depot will not be able to accept glass and foam recycling
Residents are asked to hold onto these materials and not place them into other recycling receptacles until further notice.
The City will provide updates to residents as they become available. There are no other impacts to garbage, Green Cart, general Blue Box recycling or other Recycling Depot services at this time.
The following map and schedule apply to single-family and townhomes with curbside collection. Please use the map below to find out your garbage and recycling collection zone.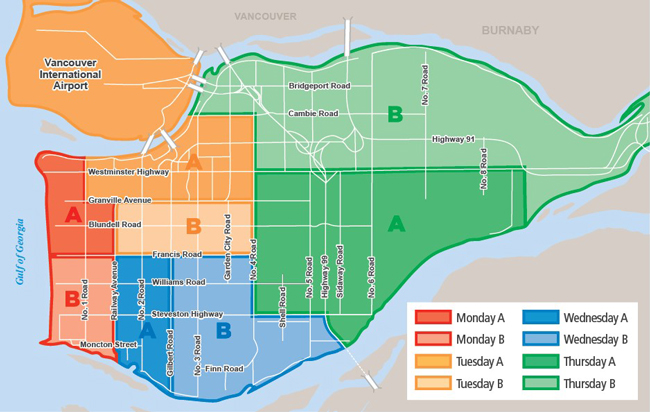 Sign-Up for Free Reminders for Recycling and Garbage Collection
Residents in single-family homes and townhomes with curbside collection can sign-up for free recycling and garbage pick up day reminders through email, text message or a phone call. This tool is simple and it's easy to use, just enter your address below and select "Search."
| | |
| --- | --- |
| | Have you gone digital and no longer need a paper copy of your calendar? If so, and you would like to opt-out of receiving paper calendars in the mail, please call 604-276-4010 or email garbageandrecycling@richmond.ca. |
Helpful Links and Resources