Recycling & Garbage
Collection Schedule
Please note: Due to inclement weather, garbage and recycling collection crews may be running behind schedule. Please ensure your garbage and recycling bins are left out and accessible for collection. Crews will focus on garbage collection to allow for Green Cart materials to defrost throughout the day. Please leave all receptacles out at curbside for collection. Thank you for your patience while our crew work through the weather conditions to collect garbage and recycling materials safely.

The following map and schedule apply to single-family and townhomes with curbside collection. When placing items out for collection, please ensure they are not impeding access to the sidewalk. Use the map below to find out specific garbage and recycling collection zones.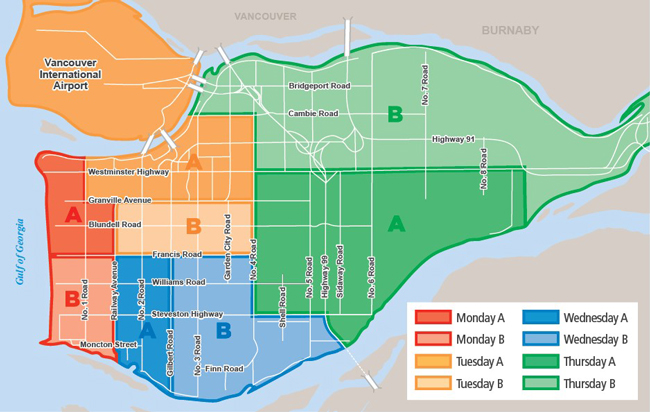 Sign-Up for Free Reminders for Recycling and Garbage Collection
Residents in single-family homes and townhomes with curbside collection can sign-up for free recycling and garbage pick up day reminders by email, text message or phone call. This tool is simple and easy to use, just enter your address below and select "Search."
Helpful Links and Resources