Recycling & Garbage
Richmond Recycling Depot

Important Notice: Glass and foam recycling temporarily suspended effective Monday, November 22

Recycle BC has advised it has temporarily suspended the collection of glass and foam recycling effective Monday, November 22, 2021 until further notice. This takes effect in the Metro Vancouver region, including the City of Richmond. The suspension is a result of flooding in other parts of BC and the BC State of Emergency. This means that until service through Recycle BC resumes:
the Richmond Recycling Depot will not be able to accept glass and foam recycling
Residents are asked to hold onto these materials and not place them into other recycling receptacles until further notice
The City will provide updates to residents as they become available. There are no other impacts to garbage, Green Cart, general Blue Box recycling or other Recycling Depot services at this time.
Location & Hours
Address: 5555 Lynas Lane, Richmond, BC
Hours:

Seven days a week from 9:00am to 6:15pm. Depot is closed on the following statutory holidays:


Directions: Travel west on Westminster Highway from No. 2 Road and turn north on Lynas Lane

New Year's Day
Family Day
Good Friday
Easter Monday
Victoria Day
Canada Day

BC Day
Labour Day
Thanksgiving Day
Remembrance Day
Christmas Day
Boxing Day
Recycling Depot Map
Hover over the icons below to see what items are accepted and where to drop them off at the Recycling Depot. Click on each icon to find out more details.
*If viewing on a mobile device, turn-sideways or click here for the full list of accepted items.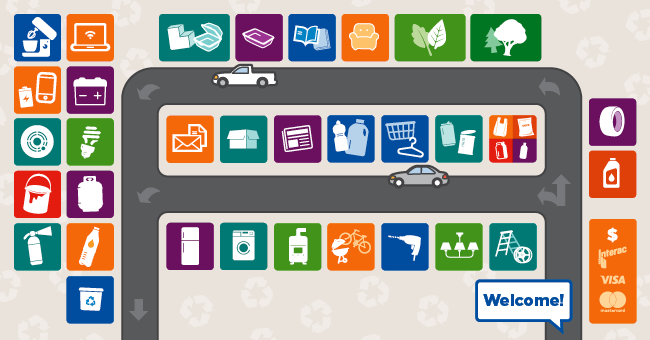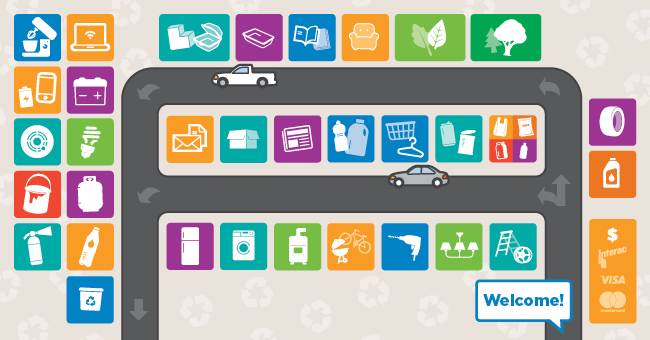 Small Appliances
Batteries & Cell Phones
Smoke & Carbon Monoxide Alarms
Paints, Solvents, Pesticides & Gasoline
Fire Extinguishers
Electronics
Lead Acid Batteries
Light Bulbs
Propane Tanks & Butane Cylinders
Cooking Oil & Animal Fat
Recycling Information and Supplies at the Depot
White Styrofoam
Coloured Styrofoam
Books
Upholstered Furniture
Grass & Yard Trimmings
Trees & Shrubs
Mixed Paper
Corrugated Cardboard
Newsprint
Plastic Containers
Large Plastic Items
Metal Food & Beverage Containers
Plastic Bags, Glass & Aerosols
Fridges and Freezers
Large Appliances
Furnaces & Hot Water Tanks
Scrap Metal
Small Power Tools
Lighting Fixtures
Aluminum
Tires
Motor Oil & Antifreeze
Purchase Extra Garbage Disposal Options
Services at the Recycling Depot
Residents and business operators can drop off 1 cubic yard of recyclables and 3 large appliances at the depot per day.
Residents can purchase rain barrels, backyard compost bins, Garbage Disposal Vouchers and/or Garbage Tags.
Residents can pick up free recycling resources such as Blue Box (standard or large size), yellow Mixed Paper Recycling Bag, grey Glass Recycling Bin, Blue Cart indoor collection bag, Green Can decals, brochures and other information materials.
Related Topics