Food Scraps & Yard Trimmings
Green Cart Recycling
Food scraps and yard trimmings are not allowed in the garbage, which means they must be recycled or composted, and the City can be charged fines and other penalties when these organics are found in the garbage. The Green Cart program is available to all residents in Richmond. If commercial operators would like City collection for organics using Green Carts, please send an email to Environmental Programs Office.

Green Carts are available in multiple sizes (

cart sizes) please email Environmental Programs Office or call 604-276-4010 or for details. The cost to exchange a Green Cart is $25.

Kitchen containers are available for pick up at the Richmond Recycling Depot located at 5555 Lynas Lane.
What Goes in Your Green Cart
Please use your Green Cart to recycle yard trimmings, food scraps and food soiled paper. See table below for a list of accepted and not accepted items.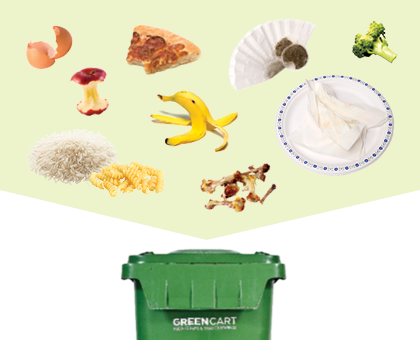 ACCEPTED
Fruit and vegetable peelings (e.g. potatoes, corn cobs & husk)
Bread, pasta, rice, noodles, (e.g. flour or grain products)
Coffee grounds, filters and tea bags
Newspaper for lining container or wrapping food scraps
Paper plates, towels, napkins
Paper bag liners
Table scraps
Meat, fish, shellfish, bones and poultry
Yard trimmings and grass clippings
All paper take-out containers (e.g. french fries containers, paper bags, etc.)
Fat and grease solids
Small amounts of cooking oil that can be wiped up and absorbed with paper towel or newspaper**
** Larger amounts of used cooking oil, such as oil from fryers, are not accepted in the Green Cart but can be dropped off in sealed containers at the Richmond Recycling Depot.
NOT ACCEPTED
Coffee cups
Compostable and biodegradable plastic bags
Garden hoses or flower pots
Large amounts of liquid grease or cooking oil
Lumber
Pet feces or kitty litter
Plastic bags, overwrap or wraps
Plastic wraps
Styrofoam cups, meat trays or takeout containers
Tips for Using Bundles and Green Cans
Additional food scraps and yard trimmings can be placed in labeled Green Cans and/or paper yard waste bags (trimmings only).
Ensure Green Can label faces the street to ensure it's easy for collectors to spot
Containers cannot exceed 80 L in capacity and cannot weigh more than 20 kg
(44 lbs)
Keep lids on tight to minimize extra weight from water and keep animals out
When closing full yard waste bags tightly fold and secure top of bag
Ensure yard trimmings are tied bundles no larger than 3 feet x 2 feet
(91 cm x 61 cm) in size and branches must be less than 4 inches in diameter
Green Can decals can be picked up at City Hall, Recycling Depot or email Environmental Programs (garbageandrecycling@richmond.ca) for the decals to be mailed to your address.
​The debate on Garburators
Should you use a Garburator or other in-sink disposal system instead of the Green Cart? No, in-sink disposal systems are not an environmentally friendly option to get rid of your food scraps. It requires a considerable amount of water to run, can cause grease build up and blockages, increases cost for the City's sewer system and sewage treatment facilities and negatively impacts aquatic life.
Related Links and Resources
Food Scraps and Yard Trimmings Recycling Tips


Instructions to fold newspaper bin liner
Video instructions to fold newspaper bin liner
About Green Recycling
Recycling Depot
Composting at Home