Single-Family Water Meter Program
Frequently Asked Questions
1. How do water meters help conserve water?
Water meters provide information about water usage. When customers are made aware of their water use, they tend to reduce their overall water consumption and save money. To help you save water and money, all properties with a water meter qualify for free water conservation devices.
These devices consist of:
Low-flush showerhead
Low-flow faucet aerators (for both kitchens and bathrooms)
Pop-flush device (to reduce your toilet's water use).
Water meters also help identify leaks which are a common cause of excessive consumption. Eliminating leaks benefits everyone.
2. Why is conserving water important?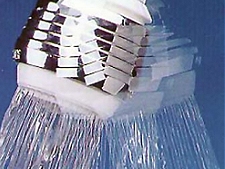 Conserving water saves money for all of us.

When water is conserved, the need for upgrades and new infrastructure can be reduced. It also means less water goes to treatment facilities, saving energy and money.
Conserving water leads to energy conservation
Using less water results in less energy being used to heat water and to pump potable water and wastewater.
Conserving water stimulates job creation

New economic activities are triggered for water-related manufacturing and service sectors, encouraging new business opportunities and job creation.
Conserving water is environmentally friendly

Reduced water use helps to preserve and protect the habitat of fish and wildlife. These natural attractions are essential to the economic health of BC's tourism and outdoor recreation industries.
3. Where is my water meter?
Your water meter is installed nea
r the City's water shutoff valve located at your property line. It is important you keep the meter box clear of any obstacles.
4. How often will I receive a bill under the metered rate?

You will receive water and sewer bills four times per year on a quarterly basis.
5. Why are metered water and sewer billed quarterly instead of annually?
Quarterly billing allows homeowners to more closely monitor their water consumption and improves their ability to detect leaks. An annual billing program would reduce the opportunity for leak detection, potentially resulting in residents accumulatin
g substantial consumption and charges due to unattended leaks and water waste.
6. Can I revert back to the flat rate after the meter is installed?
No.
7. Are the water saving devices guaranteed to work?
The water saving devices have the potential to reduce indoor water use significantly but results will vary from home to home.