Community Involvement
Project WET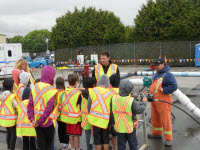 Project WET is an interactive elementary school science program aimed at educating students about the importance of water. In partnership with Richmond elementary school teachers and City of Richmond Public Works staff, this program for grade 4 through 7 students is designed to inform, entertain and educate students on the importance of water quality and supply. The acronym "WET" stands for "Water Education Team." The main objective is to promote higher-level thinking skills while learning about the fundamentals of water quality, water consumption and waste in an interactive and fun environment.

Learning Outcomes
Within the four key areas of discussion during the tour to the Works Yard, students can expect to learn many exciting areas of water and drainage systems such as:
Water sampling and quality testing
Technological changes
The importance of fire hydrants and how they work
The uses of water mains, automatic flushing units, valves and meters
Inspection camera technology
Storm sewer pipes and systems
Pump stations and how they work
How our dikes help to keep our island afloat
Richmond's emergency water treatment trailer
Field Trip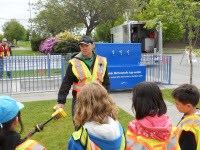 Students take a field trip to the City of Richmond Works Yard, approximately four hours in duration, and tour various interactive displays. Students are provided with written material, trivia questions and trinkets to take home and discuss with their family.
Interactive Displays
There are several interactive displays with a staff person guiding students through key learning objectives for each. Displays include:
Water Distribution
Meter Shop
Fire Hydrants & Valves
Water Locating Technologies
Storm & Sanitary Pump Stations
Storm & Sanitary Systems
Related Topics
To learn more about other City initiatives to protect our natural environment, visit the City's Environmental Sustainability section on this site.
To learn more about Project WET, contact Nicole Kwieton at projectwet@richmond.ca.