Roads, Dikes, Water & Sewers
Flood Protection
Flood Protection

The City of Richmond is situated approximately 1.0 metre (m) above sea level. It has 49 kilometres (km) of dikes and 39 drainage pump stations that provide the City with flood protection from ocean storm surges, freshet and sea level rise.
Additionally, the City has 585 km of drainage pipe, 61 km of box culverts and 165 km of watercourses that service Richmond residents and collect runoff during rainfall events.
Demands on the City's flood protection infrastructure are most significant during storm season in the winter and freshet season in the spring when river flows and volume are at its highest in the region.
The City's Flood Protection Management Strategy and Dike Master Plans are our guiding framework for continual upgrades and improvements to address climate change induced sea level rise.
Irrigation
The City's drainage network includes irrigation systems that supply water to agricultural land in Richmond. The City's pump stations bring water from the Fraser River into the City's drainage network for irrigation. This typically takes place during spring, summer and winter months to help water crops and support other agricultural activities.

Dike Master Plan
Dike Master Plan Phase 4 provides flood protection from the north arm of the Fraser River and spans from No. 6 Road to Boundary Road. Environmental enhancement and the safety of drivers, cyclists and pedestrians are significant considerations when planning for the future dike. Richmond City Council recently endorsed public engagement. This webpage will be updated when we have more information. We look forward to your participation in the City's multi-phase engagement on Dike Master Plan Phase 4.
Current climate change science estimates that sea level will rise approximately 1.0 m by the year 2100 and 0.2 m of land loss/subsidence is forecasted over that same time period.


A key action identified in the City's Flood Protection Management Strategy involves continuing to upgrade the City's perimeter dike to 4.7 m over the next 25 to 75 years to stay ahead of climate change induced sea level rise.


Continual upgrades and improvements to address climate change-induced sea level rise are guided by:

The City's Drainage and Diking Utility is funded by the annual flood protection utility fee and was established by Council in 2000. It currently generates over $13 million annually to maintain and upgrade Richmond's flood protection infrastructure.


As a result of proactive flood protection planning efforts, the City actively pursues and applies senior government grants to implement flood protection assessments and improvements.


Richmond's robust diking network is built to withstand a one in 500-year return period flooding event, including King Tide, Storm Surge and Fraser River Freshet.


The highest freshets on record occurred in 1894, 1948, and 1972. In each of these instances, no flooding occurred on Richmond's Lulu Island or Sea Island.


The City's drainage system is designed to accommodate a one in 10-year return period rainfall event.


Richmond has 39 drainage pump stations, many of which have been upgraded to increase pumping capacity and provide emergency power.


The City has several electronic drainage level sensors in drainage pipes, watercourses and box culverts that provide drainage level information.


The City also has several electronic river level monitors that provide real-time river level and freeboard information. This information is remotely monitored by City staff on a 24/7 basis.


The City inspects 61 km of box culverts (a rectangular shaped underground channel) on a 7-year cycle through CCTV camera inspections or manned entry.


The City inspects all of the watercourses regularly to ensure adequate flow in the drainage system. Ditches are dredged on a 7-year schedule to remove vegetation and sediment, maintaining capacity in the drainage and irrigation network.


Total capacity of the City's drainage pump stations has increased by 23% since 2005.


As new residential and commercial development occurs along the waterfront, developers are required to fund and complete improvements to raise dikes adjacent to their developments.


In addition to dike upgrades completed as part of the capital program, 4.0 km of dikes have been re-armoured with over 29,000 tonnes of rip-rap as part of the City's Dike Maintenance Program since 2016.


Richmond dikes are inspected three times a year by City operations staff and the dike crest is surveyed annually, based on a 5-year cycle.


The City can dispatch staff to respond to drainage related emergencies on a 24/7 basis.


Flood Protection Timeline
A considerable amount of upgrades and improvements to the City's flood protection infrastructure have been completed and are planned for the short-, medium-, and long-term to address infrastructure age, growth and climate change.
Click here to view the Flood Protection Management timeline.


River Level Map
Richmond has several electronic river level monitors that provide real time information.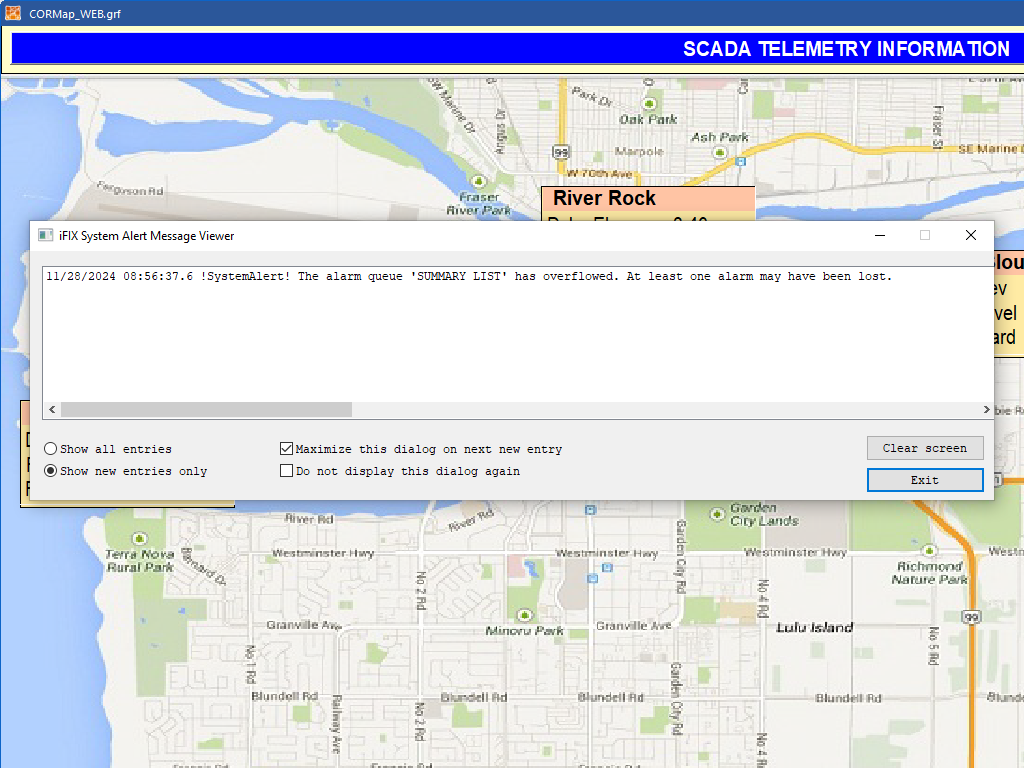 Flood Protection Documents

Learn more about the City of Richmond's flood protection system by accessing the following plans:
Past Reports to Council


Reports are provided in Adobe Acrobat pdf format.
Related Links
How to Prepare During an Emergency for additional information flooding and more.