Youth Services
Youth Initiatives
Respectful City and ERASE Bullying
The City, Richmond School District and Richmond Public Library continue to partner through the Respectful City Committee to recognize ERASE (Expect Respect and a Safe Education) Bullying Day and to raise awareness about the issue of bullying. Through collaboration, education and celebration, the City and its partners are creating opportunities for citizens to feel safe, connected and empowered. Everyone is encouraged to wear pink on Wednesday, February 26, 2020 to symbolize their intolerance of bullying.

ERASE Bullying is an opportunity to promote bullying prevention in our community. Also known as "Pink Shirt Day", wearing pink on February 26, 2020 will symbolize the intolerance of bullying and demonstrates how everyone can be a part of the solution. This day originated when two Nova Scotia Secondary students gave pink shirts to people in their school to wear in protest, after discovering a younger student was bullied for wearing a pink shirt and has now evolved into a province-wide awareness campaign to ERASE bullying.

For the 2020 ERASE Bullying marketing campaign, the Respectful City Committee is celebrating five years of connection and belonging with a compilation of winning posters that have been designed by Richmond youth and promote anti-bullying and a respectful city. In recognition of ERASE Bullying Day, many City facilities will be decorated in pink and activities will take place in libraries, schools and community centres across Richmond.

2020 ERASE Bullying Poster


2019 ERASE Bullying Poster


2018 ERASE Bullying Poster


2017 ERASE Bullying Poster

2018 ERASE Bullying video


2017 ERASE Bullying video
Positive Ticket (POSI tickets)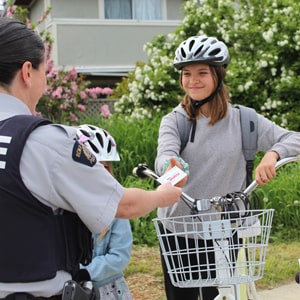 The Positive Ticket program originated in Richmond in 2001 and was adopted widely across the police system in North America. The program provides Richmond RCMP officers and other community service providers with positive "tickets" that are issued to young people up to 18 years. The tickets are given out to recognize good behaviour, reward good deeds or simply to connect and build relationships. Each ticket can be redeemed for ONE free drop-in at a participating community facility of your choice.

If you have received a Positive Ticket, find out where you can redeem.
Cambie Community Centre
Visit Cambie Community Centre for facility hours:
- Fitness Centre drop-in*
- Youth Open Gym
- Other drop-in sessions that include volleyball, Nightshift basketball and time in the Games Room
City Centre Community Centre
Visit City Centre for facility hours:
- Drop-in Preteens hangout
Hamilton Community Centre
Visit Hamilton for facility hours:
- Fitness Centre drop-in*
- Youth Open Gym
- Drop-in Preteens programs
Thompson Community Centre
Visit Thompson for facility hours:
- Fitness Centre drop-in*
- Youth Open Gym
- Preteen Open Gym
- Preteen hangout
South Arm Community Centre
Visit South Arm for facility hours:
- Fitness Centre drop-in*
- Youth Open Gym
- Preteen Open Gym
- Games Room
Steveston Community Centre
Visit Steveston for facility hours:
- Fitness Centre drop-in*
- Youth Open Gym
- Preteen Open Gym
West Richmond Community Centre
Visit West Richmond for facility hours:
- Fitness Centre drop-in*
- Youth Open Gym
- Volleyball
Arena Services
Visit Arenas for facility hours:
- Free public skate
Aquatic Services
Visit Aquatics for facility hours:
- Free public swim
Pitch and Putt
Visit Pitch and Putt for facility hours:
- Round of pitch and putt
Richmond Olympic Oval
Visit Richmond Olympic Oval for facility hours:
- Admission to the Olympic Experience at Richmond Olympic Oval
*Fitness Centre Note
Fitness Centre Orientations are mandatory for ages 13-15 years, for ages 16-17 years this is optional. Any Facilities Fitness Centre is 13 years. In addition, youth aged 13-17 years must demonstrate appropriate maturity level and have a Parental Consent Form as well as a PAR-Q form signed prior to Fitness Centre access.
For more information, contact the City of Richmond Youth Coordinator.
Phone: 604-276-4110
Youth Services Street Team
The Youth Services Street Team was created to bring the message of supporting youth and building developmental assets into the community. Street Team members are youth volunteers who participate in training with the City of Richmond to deliver key messages on the 40 Developmental Assets – and promote positive youth culture.. Look for the Youth Services Street Team at community events around Richmond. For more information on this and other volunteer opportunities, check out icanhelp.richmond.ca.
Richmond Youth Media Program (RYMP)
The Richmond Youth Media Program (RYMP) is a free program for youth ages 13 to 24 years. Participants learn media literacy skills that are relevant to their interest and will be placed in a supportive environment where they can engage with positive role models. Programming includes drop-in sessions (during which supervised youth can work independently) and a variety of structured sessions.
For more information, visit richmond.ca/medialab.

The Foundry Richmond
Foundry Centres across BC provide a "youth hub" where young people can access mental health and substance use services, primary care, youth and family peer supports, in addition to other local social services. The City of Richmond continues to support the Richmond Foundry Project as a stakeholder and partner. The Foundry Richmond continues to explore locations for the proposed Youth Hub. Young people aged 12-24 are invited to participate in the Foundry Youth Council. For more information on Foundry Richmond, contact info@foundryrichmond.com.
RYF Case Competition
The City of Richmond is working with the Richmond Youth Foundation (RYF) to host a Case Competition in May 2020 on the topic of easing the transition from and reducing single-use plastics. During the case competition, participants will work to develop the best solution to this challenging case study within a specific time frame. Typically in teams of two or more, participants will present their ideas to the larger group and a panel of judges to decide on the winning team. For more information on this opportunity check out Richmond Youth Foundation.
Richmond Model UN
The Richmond Model United Nations (RichMUN) will be hosted at Richmond City Hall in April 2020. Each year during the RichMUN Conference, students role-play delegates to the United Nations and simulate UN committees. Through this opportunity, young people develop and refine their ability to lead, debate and inspire. For more information on this opportunity visit RichMUN.