Inclusion
Newcomer Information


Richmond is one of the most culturally and ethnically diverse cities in Canada. Six out of ten residents were born outside of Canada. There are over 150 ethnic origins represented and 100 languages spoken in Richmond. Richmond's diversity contributes significantly to community vibrancy and enrichment.
Free Resources for new arrivals to Richmond
Welcome to the City of Richmond: A Guide for Newcomers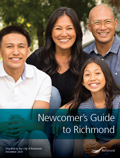 This guide provides information about the many services and resources available to help newcomers settle in Richmond.
Newcomer's Guide - English
Newcomer's Guide - Chinese
Newcomer's Guide - Tagalog
Newcomer's Guide - Punjabi
Newcomer's Guide - Russian


Settlement Services for Newcomers
These settlement organizations offer a variety of support services for immigrants and refugees by helping them get settled and learn all they need to know about starting their new lives in Canada. For information on specific services that these settlement organizations provide, please click on the link of each organization below.

Immigrant Services Society of B.C.
www.issbc.org


MOSAIC
www.mosaicbc.org
Richmond Multicultural Community Services
www.rmcs.bc.ca
S.U.C.C.E.S.S. Settlement Services
www.successbc.ca
Settlement Workers in Schools (SWIS)
www.sd38.bc.ca/services/swis
SWIS assists newcomer students and their families to access community resources and provides help navigating the Richmond public school system (School District 38). Settlement support is currently provided in English, French, Arabic, Cantonese, Mandarin, Hindi, Punjabi, Spanish and Tagalog. Newcomers need to contact their child's school for details.
English Language Learning
One of the most challenging aspects of moving to a new country is learning a new language. Free English classes are provided by several organizations. For more information, please visit their respective websites.
Language Instruction for Newcomers to Canada (LINC)
The LINC program provides basic and intermediate level English training for adult newcomers to Canada. These free English classes will improve learners' English reading, writing, listening and speaking skills, while providing them with information on their local community. Learners must be a permanent resident and 17 years or older.
Immigrant Services Society of B.C.
https://issbc.org/service-types/linc-language-instruction-for-newcomers-to-canada
S.U.C.C.E.S.S.
https://www.successbc.ca/eng/services/language-services/
Richmond School District
https://ce.sd38.bc.ca/linc-1
Conversational Classes
Conversational classes allow newcomers to practice communicating in English and make new friends in an informal environment.
City of Richmond Parks and Recreation
https://www.richmond.ca/parksrec/about/guide.htm
Richmond Multicultural Community Services
http://www.rmcs.bc.ca/english-conversation-class/
English Corner
http://englishcorner.ca/
Richmond Public Library
https://www-03.yourlibrary.ca/wp-content/uploads/2019/12/Learning-English-winter2020.pdf