Inclusion
Cultural Harmony
Richmond is one of the most diverse cities in Canada with over 60 per cent of its population born outside the country, the highest proportion of any municipality nationwide. The City of Richmond is actively involved in building cultural harmony in the community. By bringing people together in dialogue, arts and cultural programming or holding inclusive consultations, the City is committed to reducing barriers to participation and promoting a shared sense of community.
Statement Against Racism and Violence related to the COVID-19 Pandemic

On May 25, 2020, Richmond City Council adopted and endorsed the following statement against Racism and Violence related to the COVID-19 pandemic:

In Richmond, we are a community that celebrates a rich history of culture, diversity and heritage linked to the arrival and influence of immigrants that began over a century ago.

The City of Richmond does not - and never will - condone or tolerate racist behaviour in any form. Such attitudes and actions do not reflect our community's cultural diversity or the spirit of inclusion that we are all proud of.

Events of the past few months have created uncertainty, frustration and fear for some. But that is no excuse to cast blame on others. COVID-19 should not be blamed on any single culture or country and it is certainly not the fault of anyone in our community.

Now, more than ever, we must stand together and be true to our shared values of diversity, inclusion and respect. Racial and discriminatory responses and actions have no place in Richmond. They have no place in our society.
Current Initiatives

Cultural Harmony Plan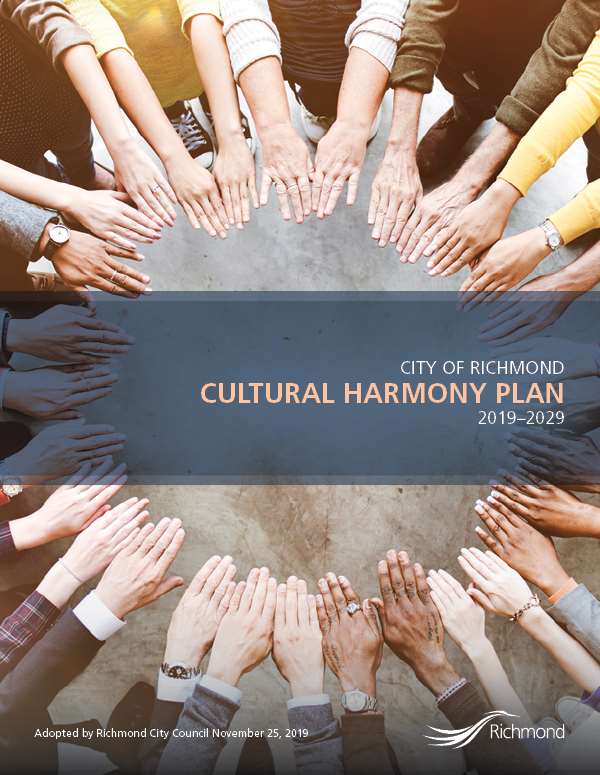 On November 25, 2019, City Council adopted the


Cultural Harmony Plan 2019–2029, which will guide the City's approach in enhancing cultural harmony among Richmond's diverse population. This Plan sets out five strategic directions and 27 recommended actions to be completed over a ten-year period.




Richmond World Festival is the City's annual multicultural festival and celebrates Richmond's significant cultural diversity. For more information: Richmond World Festival.

Doors Open
Every year the City and community partners open their doors so the public can explore over 40 sites across the city, including museums, places of worship, green spaces, fire halls and many more. This has proven to be a popular event and helps to create cross-cultural understanding. For more information: Doors Open.

City of Richmond Diversity Symposium
The City of Richmond Diversity Symposium is a one-day conference focused on sharing best practices in creating diverse and inclusive communities. It is an educational and networking event intended for municipal staff, those working in settlement and community service agencies, and community leaders of diversity and inclusion initiatives. For more information: Diversity Symposium.

Richmond Intercultural Advisory Committee (RIAC)
The Richmond Intercultural Advisory Committee (RIAC) was established by the Richmond City Council in February 2002 to advise the City on initiatives that enhance intercultural harmony and strengthen intercultural cooperation in Richmond. RIAC's intercultural vision is "for Richmond to be the most welcoming, inclusive and harmonious community in Canada." For more information: Richmond Intercultural Advisory Committee (RIAC).

Contact
For more information, please contact:
Dorothy Jo
Inclusion Coordinator
Phone: 604-276-4391
Community Social Development
Dorothy.Jo@richmond.ca