Transportation Planning
Capstan Canada Line Station Construction

Capstan Station
Capstan Station will be a new Canada Line station in Richmond, built along No. 3 Road at Capstan Way. It will be located between the existing Bridgeport and Aberdeen stations.

The station is being built to support the growing development in the area and to provide area residents and workers with convenient access to the SkyTrain network. This exciting project will deliver a safe, efficient, and environmentally sustainable transportation option for the Capstan Village area, which projects up to 16,000 residents once the full buildout of neighbourhood developments are completed.

A unique funding strategy developed by the City permits developers of projects within the Capstan Station Bonus Area to be entitled to bonus density in return for making voluntary contributions to the planning, construction and implementation cost of the Capstan Station as well as other related improvements for users of the station. Funding to initiate construction of the station was transferred by the City to TransLink in 2019.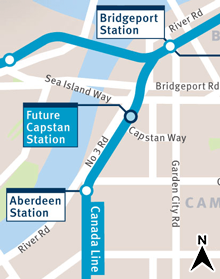 Planning Timeline
TransLink Public Engagement


Nov 16 to 23, 2020

Design: Substantial Completion


September 2021

Construction Start


September 2021

Station: Substantial Completion


Expected in Spring 2023
Project Updates
TransLink's project team will provide regular and timely construction information through mail to community residents, email, on-site signage and the
TransLink project webpage
which includes:
Video showing rendering
Construction info
Planning timeline
How did we get here
FAQ
TransLink Project Contact
Project Contact: Bill Orr
Phone: 604-613-2366
Email: capstan@translink.ca