About Getting Richmond Moving
Help Children to be Active One Hour a Day!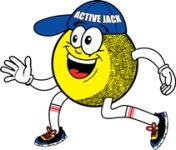 Did you know... being active one hour a day can help your child:
Improve his or her health
Do better in school
Improve his or her fitness
Grow stronger
Have fun playing with friends
Feel happier
Maintain a healthy body weight
Improve his or her self-confidence
Learn new skills
Active Jack was first introduced to participants at local daycamps at Richmond's community centres in the summer of 2012, encouraging kids to be active at least one hour a day. 

This year, Active Jack will come to life at events throughout the summer. Check back for listings of where you can expect to meet Active Jack in real life! 
 Physical Activity Guidelines for Children
 Sedentary Guidelines for Children