Fitness & Active Living
Specialized Physical Activity Programs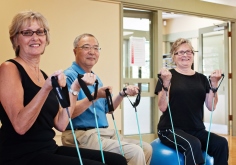 Specialized Physical Activity Programs are operated by the City of Richmond Community Services Department, with temporary offices at the Minoru Arenas. This is also the office for the Richmond Fitness and Wellness Association.
Contact
Shawna Lum
Fitness and Wellness Coordinator
7551 Minoru Gate
Richmond, BC V6Y 1R8
Phone: 604-238-8009
Fax: 604-718-8475
Email: Shawna.Lum@richmond.ca

Garratt Wellness Centre Satellite Programs
The Garratt Wellness Centre, part of Richmond Public Health, offers a number of specialized physical activity programs focused on chronic disease prevention and management. Find out more about Garratt Wellness Centre Satellite Programs.
Richmond Fitness and Wellness Association
Mission
The mission of the Richmond Fitness and Wellness Association (RFWA) is to raise awareness, encourage participation, and champion health and wellness initiatives that foster a healthy community in Richmond.

Executive
Co-Chairpersons: Ann Dauphinee and Ilario Galano
Treasurer: Jeannie Mansell