City Centre
Volunteer Opportunities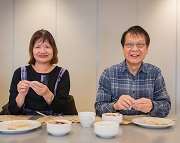 Volunteers play an important role here at City Centre Community Centre. Share your skills and meet new people by volunteering your time to help the community. We have short and long-term volunteer roles all year round.
There are many ways to contribute:
Help as a volunteer leader in children's daycamps, seniors activities and other programs
Help with activities at community-wide special events
Volunteer on various committees
Become a board member
To get involved or find out more, contact citycentre@richmond.ca or check out the City's volunteer website I Can Help.
Want to Become a Volunteer?
The City of Richmond, along with our community partners, offers a wide variety of volunteer opportunities for youth, adults and seniors. We're excited that you want to volunteer with us.
To get started, you must first register:
1. Visit the I Can Help website
2. Have an account? Log in! First Time? Click Login/Register
3. Click Volunteer as an Individual
4. Give your consent to register
5. Fill out all fields on the form

Searching for a Specific Program or Event?
Click on Opportunity Search. Select City Centre under By Facility. Sign up for an opportunity! Specific opportunities are posted closer to the date of the program/event. Check the website regularly if you don't want to miss out on opportunities!
For more information on volunteer opportunities at other facilities, refer to the City of Richmond's Volunteer Opportunities page.